Online Stock Trading Success
Tyrone Jackson's Wealthy Investor TV Episode #6
Press Release
-
updated: May 8, 2017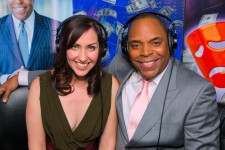 Los Angeles, CA, May 8, 2017 (Newswire.com) - We live in a world where you can find any product or service you desire online. Over the last five years, any consumer can order breakfast, lunch, clothing or auto parts with a click of a mouse.
It's no secret that trading and investing online has followed suit. In the latest episode of Wealthy Investor TV, actress Carrie Keranen shares her story and success in the world of online trading. "What I love about Carrie's story is her willingness to take the audience through her inner emotional journey as a stock market trader," says Tyrone Jackson, host and executive producer of Wealthy Investor TV. Like Carrie, most people discover Mr. Jackson and his strategies by visiting TheWealthyInvestor.net
What viewers will find intriguing is that Carrie's experience trading stocks from home is becoming more common. Technology is bringing us closer together while simultaneously helping self-directed investors gain access to Wall Street, as well as to stock strategies that were once only talked about by the Wall Street elite.
Tyrone Jackson's Wealthy Investor TV is gaining in popularity, and introducing the stock market to a whole new generation of motivated investors. Jackson says he's delighted to trumpet the theme of financial freedom to a worldwide audience.
You can watch episode six of Wealthy Investor TV on YouTube or by going to the Wealthy Investor website at www.thewealthyinvestor.net/witvepisode6/
Advances in technology will continue to provide access to credible sources of investing knowledge. That means all self-directed traders and investors have a lot to look forward to. 
Source: Internet Media & Entertainment, Inc. / Tyrone Jackson
---
Categories: Finance, Asset Management, Stocks, Business Finance, Personal and Family Finances
Tags: How To Invest, Investing, Investing Advice, Stock Market, Stock Market Investing
---