OneSimCard Europe & More Plan Increases Its Country Coverage and Allows PEN Movement
With improved Europe & More country coverage, PEN movability and Super Select Data Packages, OneSimCard.
Press Release
-
updated: May 30, 2017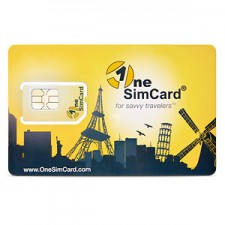 Queensland, Australia, May 30, 2017 (Newswire.com) - The Europe & More becomes the ideal talk, text, and data plan for people travelling to Europe and other countries with an increased coverage to encompass 70 nations. Priced at $29.95, including $10 for voice, data, and text, the Europe & More plan is the lowest-priced cell phone service.
The Europe & More becomes the ideal plan for anyone looking at buying an inexpensive voice, text, and data plan while travelling to Europe or even the US. The plan gives users a SIM card with Direct Dialing feature. Through this plan, the users can continue to receive calls on their domestic number while retaining one European number for any country of travel. The user needs to have an unlocked 3G or GSM phone to avail the service. Outgoing calls in some added countries are completed with a callback. The list of callback countries is marked on the Rates and Coverage page.
The service has a European and a US/Canada number preprogrammed with the OneSimCard Europe & More account. Either receive the calls on the original number or forward them to the OneSimCard acquired numbers or use the Personal Extra Numbers (PENs). Customers can move their PENs between the SIM cards in their account. A $5 fee will be charged for each PEN movement directly from the SIM card. PENs are movable between personal and corporate accounts. Customers with more than one OneSimCard VoIP enabled PEN can switch between the PENs.
Along with the improved Europe & More country coverage and PEN movability, OneSimCard offers better deals in their Super Select Data Packages for ALL SIM cards. The plan covers the following countries: Austria, Belgium, Bulgaria, Chile, China, Croatia, Cyprus, Denmark, Estonia, Faroe Islands, Finland, France, Greece, Greenland, Hong Kong, Iceland, Israel, Italy, Latvia, Lithuania, Malaysia, Malta, Norway, Poland, Portugal, Romania, Russia, Singapore, Slovakia, Spain, Sweden, Switzerland, Thailand and the USA. It provides 1000 MB of data for use in the included countries and territories. It is valid for 30 days and costs only $19.00, which is less than $0.02 per MB!
About OneSimCard
OneSimCard is a leading mobile service provider for international travellers with low-cost text, voice, and data service globally. It is a division of Belmont Telecom, Inc. With OneSimCard, travellers save 85% of their international roaming charges in comparison to the domestic carriers. The service is widely acclaimed by industry experts such as Boston Globe, Washington Post, The New York Times, and PC Magazine.
Contact Information
Roy A. Heimowitz
Director of Marketing & Sales
roy.heimowitz@onesimcard.com
Source: OneSimCard
Share:
---
Categories: Internet and e-Commerce, Mobile and Smart Phones, Business
Tags: europe, international simcards, simcards
---