One Portal, Hundreds of Providers: Online Booking of Business Catering Made Easy
LEMONCAT now offering meeting platters
Press Release
-
updated: Feb 23, 2017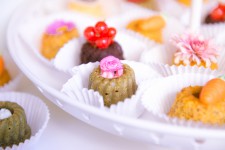 Berlin, Germany, February 23, 2017 (Newswire.com) - From company celebrations and business events, to workshops and team lunches – many companies bemoan catering that only yields boring results, like the same old kind of mixed sandwiches. Or even when their usual caterer no longer perfectly meets their needs, they continue to use them time and again – office managers with busy schedules don't have endless hours to research new providers. Finding a wide range of food options has never been easier or faster than with the arrival of online marketplaces for business catering, such as LEMONCAT. The Berlin-based start-up is the only portal nation-wide exclusively catering to companies, and it offers a selection of 300 caterers across 46 cities.
LEMONCAT organises catering for ten-person board meetings right up to 2,000-strong summer parties – the possibilities are endless. To get a quote, it's as easy as going to the website www.lemoncat.de, filling out an event form and sending it off. For those in a real hurry, or for anybody looking for inspiration, LEMONCAT has a range of menu ideas on the website, including prices. For example, a three-course team lunch for 25 people, at 15 Euro per person, could be: Mango and avocado salad with cherry tomatoes and rocket, main course of either spinach and ricotta or sundried tomato ravioli, as well as a dessert like tiramisu or fresh fruit salad.
Meeting platters are one of LEMONCAT's special services. They can be booked right away, when snacks are needed at short notice.
For large events, LEMONCAT's professional Event Managers provide free tailored solutions to catering needs. "We want to bring feel-good food to companies that is easy, inspiring and of high-quality," says Founder and CEO, Doreen Huber.
Source: LEMONCAT
---
Categories: Business to Business, e-Commerce, Office Services
Tags: business catering, event managers, food, LEMONCAT, meeting platters, summer parties
---