One of the World's Most Trusted Internet Marketers Endorses 'The Mastermind Playbook' Program
Press Release
•
updated: Mar 3, 2020
Jim Cockrum Teams Up With Aaron Walker to Endorse The Mastermind Playbook Strategy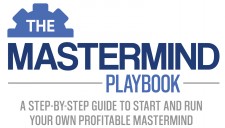 HENDERSONVILLE, Tenn., March 3, 2020 (Newswire.com) - ​Jim Cockrum, a leading online marketing expert and business strategist, is teaming up with Aaron Walker to support The Mastermind Playbook program, a focused resource tool for those interested in creating their own Mastermind Group. Cockrum has been helping entrepreneurs build sustainable income streams online for decades and attests to the benefits of both Mastermind Groups and The Mastermind Playbook strategy.
The concept of Mastermind Groups is the idea that business professionals can support each other through professional and personal challenges by relying on the shared wisdom and experience of the group. Hundreds of people and organizations around the world attest to the power of this concept and many companies even host internal Mastermind Groups of their own. Mastermind Groups create a support system for entrepreneurs who want to see each other succeed. Many successful professionals are able to use these groups as a tool for creating profitable businesses while reducing time investment.
Walker built a program to proliferate a system already proven to succeed. He created the Mastermind Playbook which teaches the fundamentals of starting a successful Mastermind Group. The program shows participants how to create and maintain groups while helping them live purposeful and fulfilling lives. It has been endorsed by some of the world's leading business strategists.
Cockrum has been repeatedly ranked among the world's most trusted internet marketers and business strategists. He specializes in combining business tactics with innovative strategies to help businesses thrive. His book Silent Sales Machine has been read by an estimated 800,000 people around the world and is a consistent top 10 seller on Amazon in the Internet business category.
Walker is a businessman and life coach with more than 38 years of experience. He has established, bought and sold eight successful companies and mentors 11 individuals. He established the View from the Top community to help those in need of support in achieving goals and living fully.
Learn more about The Mastermind Playbook at: www.themastermindplaybook.com.
###
Aaron Walker is an entrepreneur with a passion for success; starting his first business at 18 and selling it to a Fortune 500 company nine years later. He established, bought and sold eight successful companies throughout the past 38 years. Walker participates in a weekly mastermind group which he's done for more than a decade. Other members include Dave Ramsey, Dan Miller, Ken Abraham and seven other notable Nashvillians. Walker has enjoyed a 36-year marriage with his wife, Robin. Today, Walker helps men grow in success and significance as president and founder of View from the Top, a premier life and business coaching resource. Walker's book, View from the Top, motivates and inspires readers to live a successful and significant life.
Learn more: https://www.viewfromthetop.com/
Source: The Mastermind Playbook