One-of-a-Kind Mortgage Lending Software to Transform the High-Performance Home Market
Press Release
•
Feb 8, 2023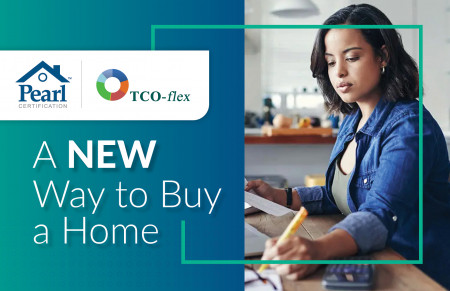 CHARLOTTESVILLE, Va., February 8, 2023 (Newswire.com) - At a VIP event for builders, real estate agents, and original equipment manufacturers (OEM) executives held at the National Association of Home Builders' (NAHB) International Builders' Show, Pearl Certification and TCO Consulting announced the launch of TCO®-flex, a one-of-a-kind software program designed to analyze and compare mortgages based on the prospective owner's Total Cost of Ownership (TCO).
"Whereas typical mortgage comparison focuses on interest rates alone, the TCO-flex program compares mortgages by TCO, which can vary significantly when comparing a home built to code to a high-performance home," said Cynthia Adams, Co-founder and CEO of Pearl Certification. "By capitalizing on the savings of paying less each month on operational costs, more homeowners can afford a high-performance home."
With a mission to advance the high-performing homes industry, Pearl Certification and TCO Consulting have developed a joint plan to assist prospective homebuyers with $1 billion in high-performance U.S. home loans by 2025.
"I am pleased to be working with the team at Pearl Certification," said Kerry Langley, founder of TCO Consulting and the designer of the TCO-flex program. "Their commitment to supporting the high-performance/sustainable home marketplace is second to none. Their values and mission align perfectly with the work that we have been doing developing the TCO-flex program. I see powerful synergies working with Pearl, and I'm confident that the overall home-building industry will be better because of the work we will be doing together."
Homeowners can combine the savings created by the TCO-flex program with new builder rebates and tax credits introduced by the Inflation Reduction Act to fund a new high-performance home.
"As part of our commitment to our elite Pearl Network Builders, Pearl Certification continually develops resources and tools to further their success," said David Maruna, Vice President of the New Construction Division at Pearl Certification. "The TCO-flex program will both drive demand for energy-efficient homes and enable Pearl Network Builders to attract more buyers and incentivize greater adoption of important energy-efficiency upgrades, such as high-SEER HVAC equipment and carbon-reducing PV (solar power) systems."
The TCO-flex program was developed to quantify the value of a high-performance home when compared to a home built to minimum code. A home built to code may cost less to build, but it costs more to operate, thereby making its TCO greater than that of a high-performance home. The TCO-flex system is available now to help homeowners select a mortgage that aligns with their energy-efficiency goals. To learn more about joining the Pearl Builders Network and offering TCO-flex to your clients, please visit the Pearl webpage for energy-efficient home builders.
About Pearl: Pearl Certification is the gold standard in high-performing home certifications, bringing visibility to the valuable features that make them healthy, safe, comfortable, and energy- and water-efficient. Pearl is the only national sponsor of the U.S. Department of Energy's Home Performance with ENERGY STAR® program and is a partner with the National Association of REALTORS® Green Resource Council. Pearl has certified and provided appraisal addenda on over 118,000 homes in 44 states and Washington, D.C. Pearl Certified homes sell on average for 5.5% more than comparable homes, according to independent appraiser studies. https://pearlcertification.com/
About TCO Consulting: TCO Consulting is a fintech software development company created by Kerry Langley to disrupt the residential mortgage marketplace. Langley, a 38-year veteran of the mortgage lending industry, has overseen approximately $1.5 billion in residential loans. As a federally registered Mortgage Loan Originator, NMLS-506632, he started the development work on the TCO suite of "financially engineered" mortgage optimization programs in early 2008, with the goal of developing enhanced value proposition solutions for buyers and sellers of high-performance homes.
###
Source: Pearl Certification