Omni-Share - Big Hit Business App That Unites Sales and Marketing Teams to Achieve One Goal, HIT Targets!
Press Release
•
Mar 15, 2016
Omni-Share empowers 'heads' of sales and marketing teams to quickly create, manage and distribute innovative presentations and content live to their employee's desktop, tablet and mobile no matter where they are located in the world. Simple!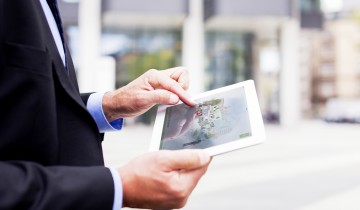 London, UK, March 15, 2016 (Newswire.com) - In recent years Sales and Marketing business tools have been revolutionised by advanced mobile technologies allowing people to work quicker and smarter.
The demand for sales enablement tools in business is growing at a rapid pace and it's said that any serious business that needs to keep ahead of the competition will implement a sales enablement solution for their sales and marketing teams.
"Omni-Share provides our global sales and showcase organisation with a unique tool for communicating our innovation solutions very quickly while its unique visual interface delivers strong engagement with our audience. It also provides key analytics to help determine what is resonating well with users and keeps me in control of the content that they see."

Matt Lawson, Director, BT
One such solution that has recently hit the business market is Omni-Share.
This well developed and carefully crafted sales enablement application will unite sales and marketing teams to work together and achieve one common goal, HIT targets!
Sales and Marketing work as a Team
The app is very useful as it enables 'heads' of marketing and sales teams to work together closely and create, upload and deliver digital marketing materials to the sales force laptop, tablet and mobile. Your sales reps can then use the Omni-Share app to showcase your business products and services in a way that will impress on the mind of potential clients, and convert interest into closed sales.
Omni-Share not only provides the facility to upload and distribute stunning visual display pages and documents but its user friendly dashboard enables the administrator to monitor content to see how effectively the sales force are utilising the apps that have been provided.
Analytical reports will be available to break down data such as:
· Which sales rep is using the app
· Content that's being utilised
· Total number of page views
· Average time per page view
· And much more!
Armed with the above data, persons in marketing, sales and management can jointly discuss the reports, what's working and in some cases highlighting areas where further training may be needed for the sales force.
Benefits far outweigh the cost
Very little time and investment is needed to roll out the Omni-Share application. The benefits of this tool far outweigh the cost needed to implement it into the workforce.
A 30-day 'no obligation' free trial period is available for everyone, which is more than enough time for the user to experience the application and understand its capabilities.
Thereafter two plans are available. They are:
· SME – 19€ per user per month
· Enterprise – Bespoke pricing
There are no setup charges making the pricing very transparent.
Removing the 'blame game'
Omni-Share converts sales and marketing frustrations into complete satisfaction removing the 'blame game' when campaigns go wrong! Why? Because this app enables sales and marketing people to work as a TEAM, making both departments accountable for their actions!
With Omni-Share you get:
· 30 day no obligation free trial
· Little investment for huge return
· Unity between sales and marketing teams
· Dashboard to create, deliver and optimise content
· Flag ship of all sales enablement tools
Watch now a short video clip and learn why Omni-Share mat bring value to your sales and marketing efforts.
Author - Steve Joyce
Related Media