Omax Health Launches CBD Stress Remedy Supplement, a New Patent-Pending CBD Fusion to Calm, Relieve, Relax
Press Release
-
updated: Jul 2, 2018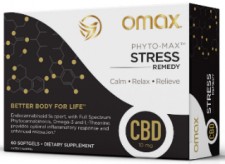 SANTA MONICA, Calif., July 2, 2018 (Newswire.com) - ​Omax® Health announces the launch of their first CBD fusion product Phyto-Max Stress Remedy, designed to help alleviate stress, calm the mind and support optimal inflammatory response for a Better Body for Life™.
Omax Health is at the forefront of the emerging CBD market and is the first to create a multi-mode of action nutraceutical that combines the company's patented omega-3 formula with phytocannibinoid rich hemp oil and AlphaWave® L-Theanine from green tea leaves. CBD is a nutrient from hemp oil that is used to support the body's Endocannabinoid system which regulates and balances a wide variety of functions such as mood, appetite, sleep, hormone production and nervous and immune system.
"We believe CBD is a nutrient that holds the power to change the lives of millions of people," said Kristin Chadwick, President and CEO of Omax Health. "But all CBD products are not created equal. By providing clinically tested CBD products, developed with the same pharmaceutical processes as our flagship omega-3 products, we continue to offer consumers the best quality possible."
CBD has been growing in popularity as more people are looking for natural solutions for overall wellness. The CBD in Stress Remedy is derived from European sourced hemp, and contains less than 0.3% THC levels, removing any psychoactive effects while retaining all the therapeutic benefits.
Omax Phyto-Max Stress Remedy conforms to the highest standards of manufacturing for the dietary supplement industry. Omax Health verifies the identity, quality and quantity of ingredients on the label and each batch obtains two certificates of analysis to ensure purity and concentration. Stress Remedy with CBD is available in a pack of 60 softgels, each with 5 mg of CBD and retails for $99.00. For more information, visit www.omaxstressremedy.com.
For all press/media inquiries, please contact Kelsey Kearns at Stanton & Company at kelsey@stanton-company.com.
ABOUT OMAX® HEALTH
Omax® Health is a leading nutraceuticals company focused on developing premium, science-based supplements including Omax3®, The Ultra-Pure Omega-3 Supplement that has become the industry leader in omega-3 products. Founded in 2010 by Yale-affiliated scientists, Omax® Health has since expanded to a global health and wellness company committed to delivering exceptionally pure, concentrated, and third-party tested products that are trusted by thousands of consumers, athletes, and healthcare practitioners. Omax Health's products are designed to optimize health and vitality so you can live your life to the max. For additional information, please visit www.omaxhealth.com. 
Source: Omax Health
---
Categories: Consumer Goods
Tags: anti-anxiety, anti-stress, CBD, consumer products, nutraceuticals, omegas, supplements
---