Omadi Offers Free Towing Software in Response to COVID-19
Press Release
-
updated: Mar 25, 2020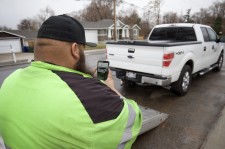 LEHI, Utah, March 25, 2020 (Newswire.com) - Omadi, a towing management software company, recently announced their decision to offer a new starter towing management package called Omadi Essential free to tow companies for 90 days. The offering is part of Omadi's response to the COVID-19 pandemic and its effect on tow operations all over the United States. The new package will allow tow companies to weather the pandemic with remote dispatching capabilities and a new driver mobile app to aid in social distancing. 
Towing companies all across the United States have been implementing policies to promote social distancing in the hopes to decrease the spread of the virus. Now, through Omadi software, these efforts can be multiplied through digital (remote) dispatching and a driver app that allows dispatchers and drivers to communicate all essential information digitally. 
To help tow companies quickly transition their company to digital, Omadi is waiving the fee for their Omadi Essential product for 90 days. This starter package will allow companies to quickly adapt to a new technology without worrying about the additional costs of a new platform.
"We feel lucky to be in a position to offer free software to tow companies during this troubling time," said Nathan Mortensen, Omadi CEO. "We hope that this small contribution can help companies focus on their business without having to worry about their employees' safety. Our hope is that Omadi's remote management capabilities, driver app, and digital (remote) dispatch will provide some stability to tow businesses during the COVID-19 pandemic."
Omadi's starter towing software aims to help companies save time and money by increasing efficiency and decreasing administrative costs. This is accomplished by offering digital (remote) dispatching, a driver app that manages photos and job information, and easy reports to understand key business metrics. For more information or to get signed up please email sales@omadi.com or call 801-800-8352. 
About Omadi
Omadi is on a mission to connect the industry with technology to request, manage, and deliver world-class tow service. This mission is backed by our vision to optimize towing, thereby elevating the quality of life for everyone in the industry. Omadi is accelerating towards its mission and vision by building products that allow clients to develop intelligent routes, dispatch events, receive real-time updates, and use a mobile app for in-field employees. These tools are backed by a powerful reporting analytics engine to help clients make business-driven decisions.
To learn more about Omadi, visit https://www.omadi.com/omadiessentialsfreecovid19
Media Contact: Gaby Porras
Phone: 801.800.8537  
Email: gporras@omadi.com ​
Source: Omadi
Share:
---
Categories: Automotive
Tags: Free Towing Software, Towing, Towing Management Software, Towing Software
---