Old-Time Radio Comes Back to Life
Aspiring actors are invited to take on a role in the East Coast Golden Age Theater presentation June 26 of the L. Ron Hubbard classic tale, "They Killed Him Dead," at the Scientology Information Center in Downtown Clearwater.
Press Release
-
May 26, 2016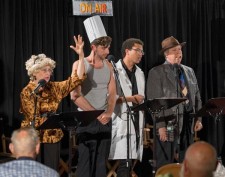 Clearwater, Florida, May 26, 2016 (Newswire.com) - ​The East Coast Golden Age Theatre brings old-fashioned fun to the Scientology Information Center in downtown Clearwater June 12 with a theatrical rendition of the pulp fiction classic They Killed Him Dead by L. Ron Hubbard. The event, which includes audience participation, is open to the public.
"Back in the 20's, 30's and 40's, before live streaming and television, reading and radio were king," states Joanie Sigal, East Coast Golden Age Theatre Producer. "After work, American families gathered around and listened to the popular radio shows of the day. Radio sparked their imagination, and opened their hearts to the characters and shows included such icons as The Lone Ranger, The Shadow and Abbott & Costello."
Now radio magic returns to Clearwater with a modern-day twist: "Guests who want to exercise their acting skills will be given a role, a script and then participate in the show," says Sigal.
"Careful Cassidy—a top-notch detective from New York City's homicide squad has never had a problem solving any murder, except this one, which involves an entire neighborhood," adds Sigal. The story has 11 speaking parts, including a part for on-the-spot home-made sound effects.
The Scientology Information Center will accommodate 25 guests for this program. RSVP is recommended and any remaining seats will be filled on a first come, first serve basis. Refreshments will be served.
"Mr. Hubbard had a great sense of humor," says Amber Skjelset, manager of the Scientology Information Center. "This story is a perfect example of how creative he was in writing a murder mystery/drama with a note of humor. It's a very entertaining story for all ages and a great way to put acting skills to use in an old style radio show setting."
The L. Ron Hubbard East Coast Theater was founded in 2011 with the purpose of performing dramatic readings of fiction short stories written by Mr. Hubbard in the 30s and 40s. Its aim is to encourage reading by young and old.  The group has performed to tens of thousands of school children and adults, primarily in Florida, but as far away as Maine, at Columbia University in NYC and to the Boys & Girls Club in Harlingen, Texas.
During the period that later was known as the Golden Age, Mr. Hubbard embarked upon a literary career that ultimately spanned fifty years and placing him at the forefront of American popular fiction authors. Especially renowned for his versatility, L. Ron Hubbard headlined the full spectrum of pulp magazines of the day—westerns, adventures, mysteries, science fiction, fantasy and even the occasional romance. In all, Mr. Hubbard wrote over 180 pulp stories with some 15 million words to his credit.
To reserve seats for the event or to learn more about this facility, please contact Amber at 727-467-6966 or amber@cos.flag.org
The Scientology religion was founded by humanitarian and philosopher, L. Ron Hubbard. The first Church of Scientology was formed in the United States in 1954 and has expanded to more than 11,000 churches, missions and affiliated groups in 167 nations. The Church of Scientology regularly engages in humanitarian programs and community events. Clearwater is the home of the spiritual headquarters for the Church of Scientology.  Its Information Center is open to all and provides answers to questions about Scientology through its audio visual displays, exhibits and publications. 
Source: ScientologyNews.org
Share:
---
Categories: Books, Radio, Arts and Entertainment
Tags: Clearwater, entertainment, fiction, L. Ron Hubbard, radio, Scientology, theater
---