OENKLEN Revolutionizes Oral Care by Transforming Tap Water Into Ozone Mouthwash in Seconds
Press Release
•
Apr 13, 2023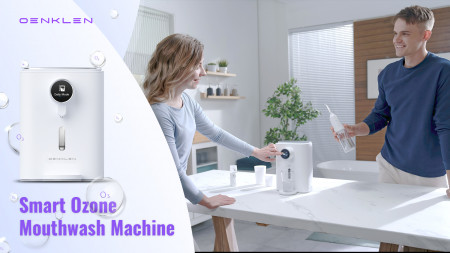 DOVER, Del., April 13, 2023 (Newswire.com) - After years of research and development, a respected team of oral care specialists has announced a breakthrough product that uses the most advanced micro-electrolysis technology to directly electrolyze tap water to generate ozone water for oral disinfection and sterilization. The ozonated water produced by OENKLEN creates a pure mouth rinse optimized for instant sterilization that is far more efficient, non-irritating, and much more cost-effective than traditional mouthwash. The zero-alcohol rinse fits all ages, including kids and the elderly. Combined with a smart App, which enables you to control different ozone concentrations, it precisely targets your oral problem, like tartar, bleeding, etc. Find more info about OENKLEN: https://signup.oenklen.com
Ozone dentistry is an effective method of painless oral care. As a powerful sterilizer, ozone can be used to reduce the bacteria that cause dental cavities and other harmful oral conditions. Ozone also destroys the acids that harm tooth enamel. Until now, this kind of oral care was only available at the dentist's office but with OENKLEN, users can enjoy the same level of care at home. OENKLEN is a compact countertop device that transforms ordinary tap water into ozone water in seconds, creating a powerful antiseptic mouthwash for oral disinfection and sterilization that reduces 99.99% of harmful bacteria in the mouth and prevents oral problems safely and healthily. OENKLEN is a powerful tool for overall oral care.
"Statistics from the WHO show that nearly half the world's population has untreated oral diseases. Without treatment, oral conditions such as cavities, halitosis, and periodontal disease can cause great discomfort along with long-term health issues. The problem we found was that tooth brushing is only 25% effective in removing the oral bacteria that cause these problems. That's why we developed OENKLEN. It creates a powerful ozone rinse that can be produced at home in seconds for daily oral care. By optimizing the concentration of ozone in the water, OENKLEN eliminates the bacteria responsible for tooth decay and other oral issues. Now, at the touch of a button, users can enjoy powerful and personalized oral care at home." Neo Wu, OENKLEN Founder
Compared with traditional mouthwash, the rinse produced by OENKLEN is more efficient at sterilization, non-irritating, and has a high cost-value ratio (equivalent to 5,000 bottles of mouthwash). The device is environmentally friendly, easy, and intuitive to use and can operate for up to two months on a single charge. Along with an included Smart APP it provides customized solutions for different oral problems and works as a personalized dental care guidance tool.
OENKLEN promotes healthy oral care and solves common oral problems such as tooth decay, halitosis, cavities, and periodontal diseases. Utilizing the beneficial effects of ozone and customized care via the App, OENKLEN gives users a powerful solution for a healthier lifestyle. OENKLEN is available now with special pricing and discounts for early adopters.
Learn more here: https://signup.oenklen.com
* https://www.washingtonpost.com/wellness/2022/11/29/cavities-teeth-gum-disease-dental
Source: OENKLEN
Related Files