Oculus Rift Giveaway Sponsored by Bee the Swarm
Mobile gaming company giving away virtual reality system Oculus Rift to help increase fan base and raise money for charities.
Press Release
-
May 25, 2016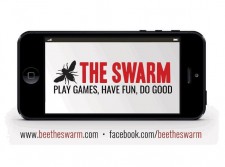 Albuquerque, NM, May 25, 2016 (Newswire.com) - Bee the Swarm, a mobile gaming company that donates 100% of their revenue to charities, today announced an epic giveaway to help spread their mission statement - play games, have fun, do good. One lucky winner will walk away with an Oculus Rift virtual reality system in August 2016. Bee the Swarm raises money for charities and GoFundMe campaigns, and works with multiple partners including SOS Africa, Boys and Girls Club, and United Blood Services.
"We are giving away an Oculus Rift to help increase our user base," said Bee the Swarm co-founder and CEO Robert Slaughter. "The more people who play our games, the more funds we raise for our charity partners and campaigns. Bee the Swarm is about using the gaming medium to help raise money to change the world, and this giveaway is a way for us to spread the word."
Participants can enter to win the Oculus Rift system a number of ways -  by downloading one of Bee the Swarm's games for charity apps or watching a video about the company. Sweepstake ends 08/01/2016 at 11:59pm ET, and is open to anyone who is 18 years or over and a legal US resident.
The Oculus Rift is a virtual reality headset that was acquired by Facebook in March 2014. Developed and manufactured by Oculus VR, the system was able to succeed largely due to a kickstarter campaign that raised US2.5 million. A consumer version of the product recently hit the market on March 28th 2016. The headset has an OLED display, 1080x1200 resolution per eye, a 90 Hz refresh rate, and 110° field of view.
About Bee The Swarm
Bee the Swarm is a mobile gaming company that donates 100% of their revenue to charities.
Founded in Albuquerque, NM, their mission statement is simple - play games, have fun, do good. Their free mobile games have raised money for multiple causes including animal rescue efforts, the homeless, S.O.S. Africa, and helped 3D print a prosthetic limb for a child.
Source: Bee the Swarm
Share:
---
Categories: Video Games, Giveaways, Arts and Entertainment
Tags: Albuquerque, Apple App Store, Bee The Swarm, charity, games for charity, Google Play, mobile apps, Oculus Rift, startup
---