OCEANS Art Exhibit Opening & Silent Auction to Benefit Ocean Conservancy
Press Release
•
updated: Apr 19, 2018
Dallas Art Gallery Artists & Recording Studio Unite to Benefit Ocean Conservancy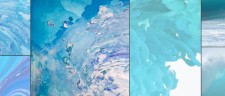 Dallas, Texas, April 19, 2018 (Newswire.com) - OCEANS Exhibit explores the ever changing climate of our planet's greatest resource, our oceans. The series of mixed media paintings, photography and sculptures included in OCEANS series provide an avenue for donations to assist Ocean Conservancy in protecting our oceans. Programs of Ocean Conservancy include Restoring the Gulf of Mexico, Confronting Ocean Acidification, Ocean Climate, Protecting the Arctic, Smart Ocean Planning, Sustainable Fisheries, and Trash Free Seas.
Texas Artists featured by Art Gallery Pure include Dallas Artists Julia Ross, Dallas Photographer Julie Shields, and Austin Artists Janell Oakes, and Jan Witten Sewall
"It is an honor to provide a venue for these talented Texas artists and musicians to come together and share work to support Oceans Conservancy to protect our oceans."

Lisa Faulconer, Owner CakeMix Recording Studio
"It is an honor to provide a venue for these talented Texas artists and musicians to come together and share work to support Oceans Conservancy to protect our oceans," said Lisa Faulconer Owner CakeMix Recording.
ARTISTS STATEMENTS
Julia Ross, Mixed Media Artist:
Ocean Series
Astoundingly beautiful, full of life, with unimaginable depth, the ocean inspires creativity. New perspectives are gained with each trip to the beach. Drops of paint begin the process which extends to the canvas and defines a new perspective of landscape, water, sea life and the ever changing ocean climate. Layers of transparent color and metallic elements combine to relay a calm strength inherent in our OCEANS.
Sitting on the beach, breathing the sea air, listening to the waves roll in, viewing all variation of color that no man could recreate. The ocean series of encaustic, acrylic and ink paintings and sculptures bring me to a place, away from everyday reality to relax in the flow of artistic work. The colorful paintings exude happiness.
Julie Shields, Photographer
I view photography from an artist's standpoint. Many of the artistic elements incorporate the beautiful landscapes of Texas, adding depth of composition to photography.
I love traveling across the South with my camera in hand. It's such a unique landscape everywhere you turn. Whether it be the wide open night skies of Texas, the Spanish moss hanging from a large live oak in Georgia, or a meandering tidal creek who's path you want to take in Charleston, I love remembering all of these special places through the photos that I've taken along the way.
Art Gallery Pure includes the work of Julie Shields in photography exhibitions during Fall and Spring Art Shows to include landscape photographs, ocean scenery, and encaustic photography artwork.
Janell Oakes, Mixed Media Artist:
Song Birds
Birds symbolize freedom and a connection between the physical and spiritual worlds. Likewise, music and literature allow us to slip our earthly bonds and soar into new realities. It seems only natural to combine the two. The sculptures in my Song Birds series are three dimensional extensions of my paintings on canvas. Loose line work conveys the joy of the artist at work. Collage, in the form of book pages and sheet music, adds visual complexity and substance. These elements culminate in pieces that are both playful and nuanced.
Re-collection
The rapid pace of technological advancement is astounding. Each new version of the phone/computer in my pocket renders old technology obsolete. This series is a collection of everyday household items from the past, once essential, now absent. My paintings are densely layered with acrylic, collage and pastel. However, the finished pieces evoke quick sketches from memory, slightly skewed by the haze of nostalgia.
Jan Sewall, Mixed Media Artist:
A native Texan, my artwork has followed experiences of my life, raising a family, traveling and enjoying a new view with each new era, conversation, sunrise and sunset.
A Signature Member of National Watercolor Society, Soutwestern Watercolor Society, & Texas Watercolor Society with nationally award-winning paintings, artwork showcased at Art Gallery Pure OCEANS Exhibit has been featured in galleries throughout the United States.
Donations to support the cause are accepted at the door. 10% of art show and auction proceeds will go to benefit Ocean Conservancy.
OCEANS Exhibit is open April 19 - June 15 at Art Gallery Pure.
About Art Gallery Pure
A Dallas Art Gallery, curated by artists. GALLERYPURE provides affordable artwork by emerging artists to professional artists works. Buy original artwork, limited edition prints, commission artwork of artists or visit the gallery at 17817 Davenport Road, suite 110 in Dallas. Artwork, including paintings, sculptures and photography are available for purchase online at https://artgallerypure.com
About CakeMix Recording
CAKEMIX RECORDING works with production companies from coast to coast and around the world mixing projects and creating sound design for television, film, radio and video games. The company was founded in 1998 as a Dallas area Recording Studio, offering professional recording services and audio post production to talented bands, musicians and production companies. The recording studio provides a comfortable, creative and professional environment, with professional, accredited, and experienced staff of musicians, composers, and audio engineers. Visit https://www.cakemixrecordingstudio.com for more information on services and community events.
Source: Art Gallery Pure
Related Media
Tags
Additional Links