Obi U. Osuji, M.D., Joins OrthoAtlanta Orthopedic and Sports Medicine Specialists in Johns Creek and Gwinnett
Press Release
•
updated: Aug 2, 2018
Orthopedic Surgeon Specializes in Adult Total Joint Reconstruction, including Direct Anterior Approach Hip Replacement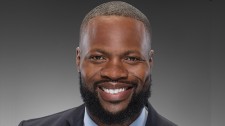 ATLANTA, August 2, 2018 (Newswire.com) - OrthoAtlanta is pleased to welcome orthopedic surgeon Obi U. Osuji, M.D., to its orthopedic and sports medicine practice in Gwinnett and Johns Creek. Dr. Osuji brings expertise in adult reconstructive surgery to patients in the greater North Fulton County area, including Alpharetta, Johns Creek, Duluth and Lawrenceville. Board-certified and fellowship-trained in adult total joint reconstruction, Dr. Osuji also holds additional training in partial knee replacement and robotic surgery.
Dr. Osuji's practice includes general orthopedics and joint replacement, including direct anterior approach total hip arthroplasty, robotic total hip arthroplasty and hip arthroscopy. Surgical procedures for the knee include knee arthroscopy, total knee replacement and unicompartmental knee replacement, also known as partial knee replacement. With his medical practice focused on treating patients with musculoskeletal disorders, Dr. Osuji said, "My goal is to educate my patients about their orthopedic conditions and to provide thoughtful, patient-centered and evidence-based orthopedic care."
My goal is to educate my patients about their orthopedic conditions and provide thoughtful, patient-centered and evidence-based orthopedic care.

Obi U. Osuji, M.D., OrthoAtlanta Orthopedic Surgeon
"Dr. Osuji joins the OrthoAtlanta orthopedic sports medicine group in Gwinnett and Johns Creek to serve patients with many types of hip and knee disorders," said Dr. Michael J. Behr, OrthoAtlanta medical director. "Dr. Osuji is skilled in performing direct anterior approach total hip arthroplasty, a total hip replacement procedure that has become very popular and is considered a less-invasive alternative to the traditional approaches to hip replacement. Also referred to as front hip replacement, direct anterior approach hip arthroplasty can typically result in a faster return to daily activities with less immediate post-operative restrictions."
Dr. Obi U. Osuji graduated summa cum laude from City University of New York, New York, with a Bachelor of Science degree in Biochemistry. Dr. Osuji received his Doctor of Medicine degree at Stanford University School of Medicine in Palo Alto, California. Dr. Osuji completed his Orthopedic Surgery Residency at Howard University Hospital in Washington, D.C., and his fellowship training in adult reconstructive surgery from Steadman Hawkins Clinic of the Carolinas in Greenville, South Carolina. Dr. Osuji is a member of the American Academy of Orthopaedic Surgeons (AAOS), American Association of Hip and Knee Surgeon (AAHKS), J. Robert Gladden Orthopaedic Society (JRGOS) and the American Medical Association (AMA). Dr. Osuji enjoys basketball, soccer, movies and working out at the gym.
Appointments can be scheduled with Dr. Obi U. Osuji at OrthoAtlanta locations in Gwinnett, 678-957-0757, and Johns Creek, 678-205-4261.
About OrthoAtlanta
OrthoAtlanta is one of the largest physician-owned orthopedic and sports medicine practices in the greater Atlanta, Georgia, area providing an integrated approach to delivering musculoskeletal care. With 37 physicians serving in 14 offices, the practice provides the highest level of patient care for injury or deformity of muscles, joints, bones and spine. OrthoAtlanta offers convenient accessibility to a full range of musculoskeletal surgeons, specialists and patient services including on-site physical therapy, pain management care, seven MRI imaging centers and workers' compensation coordination. OrthoAtlanta Surgery Centers in Austell and Fayetteville provide cost-effective, same-day surgical procedures in an accredited outpatient center. Comprehensive operative and non-operative musculoskeletal care and expertise includes sports medicine, arthroscopic surgery, hip replacement, knee replacement, neck and spine surgery, elbow and shoulder surgery, hand and wrist surgery, foot and ankle surgery, physical medicine and rehabilitation, arthritis treatment, general orthopedics, work-related injuries and acute orthopaedic urgent care. Learn more at www.OrthoAtlanta.com.
For additional information, please contact Pat Prosser, Public Relations Manager at OrthoAtlanta, 678-996-7254, or via email at pprosser@OrthoAtlanta.com.
Source: OrthoAtlanta
Related Media
Tags
Additional Links