Oak Ridge Winery Unveils Old Soul Rebrand, Honoring Six Generations of Family Winegrowing With Vision to the Future
Press Release
•
Sep 19, 2023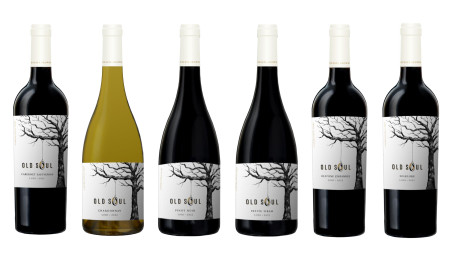 LODI, Calif., September 19, 2023 (Newswire.com) - In an embrace of generational legacy and a nod to future vision, Oak Ridge Winery officially unveils a new identity for its beloved, award-winning, estate-grown wine brand, Old Soul. The rebrand celebrates the tapestry of its vineyards, blending past traditions with aspirations for Old Soul's next chapter.
Since its debut, the label has narrated a story spanning generations, symbolizing meticulous winemaking and commitment to the land through the image of an old oak tree with roots deeply anchored and branches reaching skyward. As the brand continues to evolve, the updated label showcases a more intricate drawing of the oak with a whimsical tire swing hanging from its branches, symbolizing the traditions of the past and the promise of the future, capturing the brand's constant motion with the oak serving as steward of the land.
"We're thrilled to unveil this refreshed brand identity for our Old Soul brand that's stood the test of time and continues to deliver," said Raquel Casity, General Manager and Partner at Oak Ridge Winery. "The label represents evolution but also captures everything this brand and winery stand for: passion, dedication, vision, sustainability and innovation, honoring our heritage and legacy with every bottle. The seasons may change and the swing may sway, but the essence of Old Soul will always stay rooted in the tradition of six generations of thoughtful wine-making."
The brand's new label, designed on 100% recycled GTREE™ paper stock, also underscores Oak Ridge Winery's ongoing commitment to sustainability. With a rich legacy spanning nearly a century, the Maggio family's vineyards are meticulously audited and certified each year by LODI RULES. This rigorous assessment guarantees every wine they produce bears the Certified Green Seal of Sustainability.
Anticipation is already building as these newly branded Old Soul bottles are slated to arrive at retailers nationwide by late September. With recent Gold and Double Gold honors in competitions, including San Francisco Chronicle's Wine Competition and San Antonio Stock and Rodeo, and 90+ point ratings from Wine Enthusiast for the brand's 2020 and 2021 Chardonnay and 2021 Petite Sirah, Old Soul's portfolio boasts six exceptional, approachable wines:
Old Soul Cabernet: A deep garnet treasure, with enchanting notes of black plum, cherry, and toasted caramel.
Old Soul Chardonnay: An award-winning golden delight with lemon meringue aroma, infused with a fruity character.
Old Soul Petite Sirah: Echoing the Cabernet's allure, with an inviting richness.
Old Soul Folklore Red Blend (Previously Pure Red): A harmonious blend with undertones of black pepper and cherry.
Old Soul Old Vine Zinfandel: A sophisticated mix of blueberry and black currants with a cinnamon flourish.
Old Soul Pinot Noir: Ruby in essence, bursting with cherry cola aroma and complemented by toasted vanilla oak.
"For generations, the Old Soul vines have told the story of our family's wine-making history and commitment to the land," added Rudy Maggio, founder and Maggio family patriarch. "As we move into the sixth generation, it's time our label did the same. We're excited to bring renewed attention to the Old Soul brand as we position it for future growth."
About Oak Ridge Winery:
The Oak Ridge legacy began in the vineyards of Lodi, California, where for six generations, the Maggio family has nurtured their vines. Established in 1934 with a history steeped in family, farming and winemaking, Oak Ridge Winery stands as a testament to the passion, dedication and vision of the Maggios. The winery, once a wine-making cooperative, was transformed under the vision of Rudy Maggio and is now owned and run by his three daughters, Raquel Casity, Lisa Kammerer and Shelly Maggio Woltkamp, taking forward the family's winemaking traditions. With a sprawling 2,500 acres in the Lodi American Viticultural Area, the vineyard pays homage to the passion and hard work of its predecessors. Now a production powerhouse, Oak Ridge Winery continues to be an embodiment of family values, hospitality and pioneering spirit. To learn more, visit www.oakridgewinery.com.
Source: Oak Ridge Winery