NYC Based Singer v Empress Set to Release Debut EP "Can't Tame a Savage"
Press Release
•
Jun 23, 2016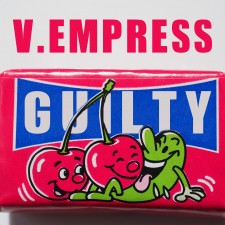 New York City, June 23, 2016 (Newswire.com) - V Empress, New York City based Pop and R&B singer, kicks off the summer with a bang…or rather "bang! bang!" an electrifying line she repeats throughout her newly released song and music video; Pistol Down. The track and video is the first of four; Guilty, Lies and Bentley Rides, and Never Gets Old (NGO,) set to be released on July 1st, in her highly anticipated debut EP; Can't Tame a Savage.
Inspired by Kid Ink and Dj Mustard's production of Summer in the Winter, V Empress set out to achieve her own [female] fusion of hot club oriented hip hop beats paired with very catchy, sexy and complex lyrics. Her track Guilty describes her desire to partake in a three-some, and ultimately encourages listeners to kick off their summer by unleashing all off their deep inner desires. V Empress states "I want to be as raw, honest, and transparent as possible when writing my lyrics and creating my art," and aims to "promote female empowerment and expression." V Empress' bold, honest lyrics can also be identified in her songs; Lies & Bentley Rides and Never Gets Old (NGO). Her lyrics disclose intimate details and feelings about her turbulent long-term relationship with the popular Youtube personality Coby Persin. It is, however, her track Pistol Down, that really transforms her EP, Can't Tame a Savage, into a genuinely impressive summer banger. Her electrifying vocal overlays, and exciting lyrics are extremely catchy, dope to party to, and will surely leave listeners singing the song back all day.
"I want to be as raw, honest, and transparent as possible when writing my lyrics and creating my art. By doing this I hope to ultimately encourage female empowerment and expression."

V Empress, NYC Based Singer
Vocal Production
V Empress solidified her desired sound while working with NJ based music producer, engineer and mixer, Jake Antelis. Antelis has worked with local and international artists as well Youtube stars including; Esmee Denters, The New Velvet, Alyssa Bernal, and has had songs placed in shows on MTV, MLB network, American Idol and The Voice.
"V Empress not only writes and creates great songs and lyrics and catchy melodic content but is one of the most open artists in regards to collaborating and being open to the opinion of others for the sake of making each song and production as best as they can possibly be. It's such a pleasure to be part of that journey." -Jake Antelis, Music Producer
Music Video Production
This week, V Empress released her latest music video for her track Pistol Down. She has been working exclusively with the prominent New York City based video production team, Phatt Features (run by Matt Dickie and Phil Kiene.) The team has already wrapped up shoots for EP Can't Tame a Savage's tracks; Guilty, Never Gets Old, and Lies and Bentley Rides which are currently undergoing post production and will be released in July.
"Transforming my music to life, visually, is just as much of the creative process as writing and recording the music. Matt and Phil [Phatt Features] enable me to expand my artistry and truly achieve my aesthetic vision for each project."-V Empress
"The plan for Pistol Down was to aesthetically combine a gritty urban scene with the alluring nature of the Bentley. In post-production, we saturated the bright colors and drained the remaining colors to create an aesthetic that correlated with V Empress' fun, enthusiastic, vibrant persona on screen."-Phatt Features
"When it comes to her music, V Empress is an unquestionably diligent professional. She writes and performs music that means something to her and that she is truly proud of as a result.In the process of producing music videos with V Empress, she takes advice and pointers constructively and she often provides great ideas of her own." -Phatt Features
Promotional Branding
Pop and R&B singer; V Empress, has landed a promotional partnership deal with U.K. based streetwear clothing line; Decs and London. She can be seen rocking a white Decs and London crop top, as well as a black beanie with the brand's slogan; "Do It Like It's Legal." in her latest music video Lies & Bentley Rides. She has also promoted the clothing brand on her impressive Instagram page followed by over 14.6 thousand followers; @V.Empress.
EP Release Party
This Friday, (05.08.2016) New York City based singer V Empress flew into Prague, Czech Republic, to celebrate the release of her new EP Can't Tame a Savage. Hosted by Prague's well known club; M1 Lounge, V Empress gave guests a sneak peak of two of her new tracks "Pistol Down" and "Guilty." The party guest list included a number of Czech rappers including Ektor, Penis Pro, and Lord K (featured on two of V Empress' previous tracks "Royalty" and "Home,") as well as DJ KooGee, who ultimately played the tracks at M1 Lounge. M1 Lounge stands alone as the most exciting, and diverse nightclub in Prague. Has been a hotspot for touring celebrities including: Far East Movement, Kid Ink, Jeremih, Machine Gun Kelly, and Xzibit.
"It is always a pleasure hosting V Empress at M1 Lounge. Our renowned team of Djs keep the place pumping with a selection of R&B, Hip Hop, and POP music. Our guests highly enjoyed the sneak peak of V Empress' new tracks and her new EP has been added to our select set lists." - Johnny Magic, M1 Lounge Prague
Social Media Success
V Empress has teamed up with Facebook partner, and founder of SoFlo Media, Antonio Leivano, to receive promotional backing and consulting services. SoFlo's page has shared various V Empress music videos to an audience exceeding 15 million views weekly.
"I believe V Empress possesses immense potential both creatively and professionally. As her social media following continues to grow, [14.5K followers on Instagram: @V.Empress] so does her determination to influence her generation by encouraging female empowerment and expression through her images, videos, and music." -Antonio Leivano, Founder of SoFlo Media.
For More Info Visit: www.vempress.com
Source: V Empress
Related Media
Additional Links