Nuvi Global published scientific studies supporting that the all-natural supplement Stemforte Plus, helps release adult stem cells and activate telomerase activity
Press Release
•
updated: Oct 9, 2021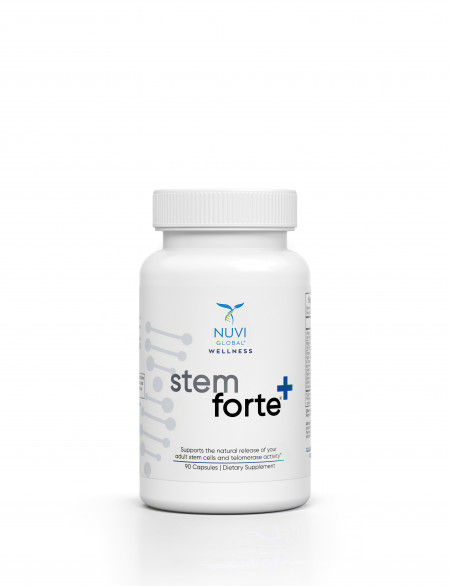 ONTARIO, Calif., October 9, 2021 (Newswire.com) - Nuvi Global, an American wellness and supplement company based out of Ontario California, has released Stemforte Plus. An all-natural supplement that according to scientific studies has advanced stem cell technology and telomerase activity support. Stemforte Plus is formulated with 17 ingredients of 100% natural origin like Astragalus, Brown Seaweed, Kino Tree, and Bovine Colostrum that may increase the production of adult stem cells, and help strengthen telomeres; the ends of chromosomes in the structure of the cell, for increased cell life.
Several physical aging signs are credited to the weak immune system, accumulated damage done to cells, shortening of telomeres, and the presence of toxins and the free radicals in the body. Some that activate these free radicals include stress, excess sun, obesity, and smoking. Adult stem cells produced in the body have substantial capabilities for the growth, regeneration and repair of damaged cells and tissues in the body. This phenomenon can be compared to a built-in repair kit or maintenance crew that only needs to be stimulated or activated when it is needed.
Recently, Translational Medicine Communications, published the results of a new scientific study to prove the Stemforte Plus claims "supports the natural release of adult stem cells" and "telomerase activation". Within 72 hours, the cells treated with the suggested serving size of 3 capsules of Stemforte Plus, had an increase release of stem cells 14 times more. The effects of the same dosage in the telomerase activity were recorded to have improved by 7.2 times more after 8 hours. This study concluded that "Stemforte Plus® also increases the expression of CD34 and CD45 markers and thereby likely to increase differentiation and proliferation of hematopoietic stem cells as well as somatic stem cells and thereby speed up tissue regeneration and growth. Further, Stemforte Plus® also increases telomerase activity." (Chavez, V. StemForte Plus® for stem cell activation and telomerase activity for anti-aging purposes. transl med commun 6, 14 (2021). https://doi.org/10.1186/s41231-021-00094-1)
Nuvi Global is an American wellness company that formulates 100% natural nutritional supplements, with highest manufacturing practices. It is committed to product innovation, with the use of top-quality ingredients, and scientific research to ensure the best results. Nuvi Global currently has an international presence in the Dominican Republic, Mexico, Colombia, and the Caribbean, with dedicated customers from all over the world. The company's mission is to transform lives with products made with real science that generate results, at an affordable cost for the world, and an opportunity that comes once in a lifetime.
Media contacts:
Email: info@nuviglobal.com
Phone: 844-740-6938
www.nuviglobal.com
Address: 1101 S Milliken Ave Suite F/G, Ontario CA 91761
Source: Nuvi Global