NuEyes Smartglasses Helps Veteran With Retinitis Pigmentosa Restore His Vision and Hobbies
Press Release
-
updated: Feb 21, 2018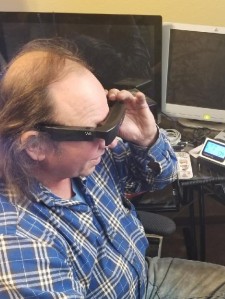 DALY, Colo., February 21, 2018 (Newswire.com) - Dan Kern is a retired veteran living in Colorado with retinitis pigmentosa. His vision has slowly deteriorated over time due to radiation exposure while serving in the military. Small tasks became difficult for Kern, such as reading a menu at a restaurant or seeing the buttons on the microwave. Hoping to find an answer for better sight Kern saw various optometrists, in which he was told that there was nothing else they could do for him.
Kern reached out to NuEyes Smartglasses for a demo, in which he met with NuEyes representative, Von Lacey. While testing out NuEyes ODG Smartglasses, Kern could read his phone and text messages immediately. Also, he could read a sample restaurant menu, which he hasn't been able to do in years.
Kern couldn't describe only one aspect of his life that has changed since discovering NuEyes ODG Smartglasses because it's a multitude of things – from being able to see the buttons on the remote control of the TV to be able to build ham operated radios with the smartglasses. "I'm just enjoying the things that I used to be able to do more frequently now. I'm a ham radio operator, I do have features on the radio that will tell me the frequency, but now I can read the dials and the buttons and the frequencies. I was able to see the color and more in detail," says Dan Kern.
NuEyes ODG Smartglasses allowed him to be more independent and do things on his own. Kern can now play cards with his friends because he can see the playing cards, making socializing easier. Also, traveling through Europe on the Rhine River, Kern could see all the beautiful castles and monuments in detail.
Kern has tunnel vision and 14 degrees of vision, with the smartglasses opening his vision to 38 degrees. The smartglasses triple his existing peripheral vision. "With NuEyes you get another chance to have your vision. It's better than what the optometry world would have to offer. I hope you guys can do a lot of good education with the ophthalmology and low vision industry getting it out there because it can help a lot of folks," says Kern.
Kern describes NuEyes as being extremely supportive in helping him with any questions he had, software updates, and various things. "I can't say enough about these guys. It's a rare company with that much technical support. I really enjoy the product and their support. It's really awesome, it gives you another chance at everything," says Kern.
About NuEyes
NuEyes was founded by two U.S. veterans in partnership with Osterhout Design Group, a military contractor who developed glasses for battlefield applications. Their glasses and software have been modified to assist people with visual impairments and to provide a platform for further feature development. NuEyes featuring ODG Smartglasses are electronic, lightweight, and compact allowing for hands-free use. NuEyes wants to give the visually impaired the opportunity to have a normal life and partake in everyday tasks without their vision disabling them.
NuEyes Media Contact
Regina Chatman
800-605-4033
regina@nueyes.com
Source: NuEyes Technologies Inc.
Share:
---
Categories: Business Technology, High Technology, Healthcare and Medical News
Tags: Low Vision, Ophthalmology, Optometry, Retinitis Pigmentosa, Retired Veteran
---