Nude Modeling Heals the Way Women Think About Their Bodies
Press Release
-
updated: Jul 26, 2018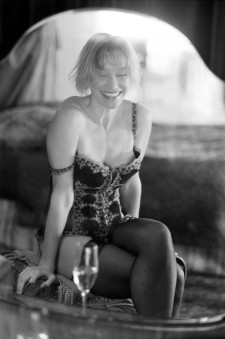 BOCA RATON, Fla., July 26, 2018 (Newswire.com) - In a recent article and video published by Model Society Magazine, photographer and former model Lone Morch shares surprising and touching insights from nearly a decade of photographing nude women of all ages, shapes and sizes.
The captivating article gives us a glimpse into how Morch has transformed the lives of so many women by using photography to dismantle the debilitating and harmful insecurities that are so pervasive in culture today. In her ongoing crusade to heal the way women experience body image, Morch has empowered countless women to step out of the shadows and embrace genuine self-acceptance. Inspired by her own liberating experience in front of the camera, she opened Lolo's Boudoir studio in 2004 as a place for women's self-discovery.
When talking about culturally entrenched beauty standards, Morch says, "We have an opportunity to exist without judgment and self-censorship. We can rekindle reverence for our bodies and feminine selves. There is a beautiful process by which we remake ourselves in our own image."
The article, "Unveiled" from Issue 3 of Model Society's popular figurative fine art magazine, reveals the unexpected interplay between photography and healing. In the article, Model Society chronicles Morch's intimate photographic encounters with women of all ages, stages and walks of life who have come to be photographed by her, nude.
As a result of their experience, many women proclaim a profound and renewed sense of confidence and beauty. Paula Kirtley, a 50+ year old model, recently described her experience as life-changing, "Through the kindness of the photography lens... I have accepted that my essence has scars, wrinkles, and curves. I honestly believe that exposing the rawness of who I am - flaws & all, will open the door of less critical self-thoughts for those of us grappling with mid-life & self acceptance. We should see beauty in every form. So I am unapologetically embracing that I am imperfectly perfect. My wish for others is to do the same."
Lone Morch is one of many fine art models and photographers at Model Society who are transforming the way the world relates to human beauty. Read the full article and watch the inspiring video of "Unveiled" along with other compelling stories in Volume 3 of Model Society Magazine (https://modelsocietymagazine.com/self-acceptance-unveiled).
About Model Society
Model Society is a social platform and publishing company dedicated to restoring human beauty to its rightful place as a work of art. Model Society Magazine highlights cutting-edge creatives who are transforming the way the world relates to human beauty. With almost 5,000 of the world's finest models, photographers and artists, the Model Society community has become a safe space for respectful and artistic nude works that are banned on mainstream social media. Since 2011, Model Society has been an online meeting place for people everywhere to celebrate human beauty as art, openly and without shame. Visit www.modelsocietymagazine.com and www.modelsociety.com to learn more.
For more information about Model Society and Model Society Magazine contact:
David Bollt (Editor)
director@modelsociety.com
(828) 279-1086
Source: Model Society LLC
---
Categories: Beauty and Personal Care, Photography
Tags: body image, body positive, human beauty, modeling, plus size
---