Novi Labs Releases Novi Data Network (NDN), Leveraging Proprietary Oil and Gas Data for AI Driven Well Forecasting Models
Press Release
•
Jun 8, 2023
Empowering Machine Learning through Proprietary Data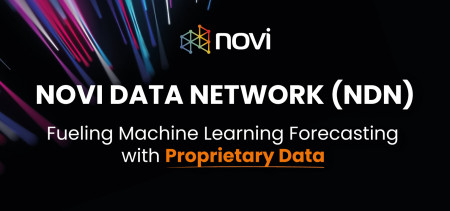 AUSTIN, Texas, June 8, 2023 (Newswire.com) - Novi Labs, a leading provider of advanced oil & gas analytics solutions, is pleased to announce the release of Novi Data Network (NDN). NDN allows oil & gas operators to collectively pool their production and completion data to facilitate the training of machine learning models that drive more accurate well forecasts and improved return on capital. NDN unlocks substantial value for members by providing them access to proprietary, well-level daily production and completions data that drives improved Novi forecasting models.
NDN provides high-quality proprietary data licensed from Novi customers. NDN includes well location information, target formation, detailed completions data, and well-level daily production. The Novi Data Network (NDN) dataset stands out with its inclusion of over 20,000 licensed horizontal wells sourced from 50+ operators across 11 shale plays. NDN's unparalleled quality empowers users to make more accurate forecasts and increase return on capital from their development plans. No single operator in the US can match the depth and breadth of the Novi Data Network.
NDN data seamlessly integrates into Novi's end-to-end analytics platform, empowering customers to leverage a vast and unparalleled dataset to develop accurate forecasting models. By harnessing Novi's industry-specific machine learning algorithms and leveraging the exceptional quality of the NDN dataset, customers can confidently develop models that drive accurate business decisions.
"We firmly believe that the highest quality proprietary data is the fuel that powers the future of the oil & gas industry. With the Novi Data Network, companies can leverage proprietary data and machine learning models to improve return on capital." - Jon Ludwig, President Novi Labs

About Novi Labs
Novi Labs, Inc. ("Novi") provides an oil & gas data analytics platform that streamlines how E&P companies and energy investors scout for acquisition opportunities, make investment decisions and optimize drilling programs within one unified, end-to-end platform which blends market-leading upstream data, engineered datasets and predictive analytics. Novi was founded in 2014 and is headquartered in Austin, TX. For more information, please visit https://www.novilabs.com
Source: Novi Labs