Notable Eclectic Design Firm P&T Interiors Recognized as LUXLife Magazine's Most Innovative Boutique Interior Design Firm (New York) 2020
Press Release
•
updated: Jan 22, 2020
The Notable Eclectic High-End Boutique Interior Design Firm, Led by Pol Theis, is Recognized Among New York's Leading Designers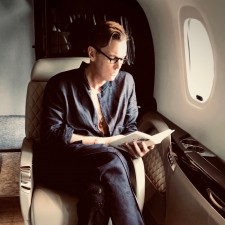 NEW YORK, January 22, 2020 (Newswire.com) - Luxury lifestyle magazine LUXLife Magazine announced its 2020 Designer Awards in recognition of the training, practice and precision that goes into all forms of design work. The Designer Awards showcase the best and the brightest from across the country from a brand known for their glimpses into the world of the glamorous.
P&T Interiors is a boutique interior design firm providing highly personalized residential design services to an international client base. With the mission to translate a client's taste and lifestyle into their space while developing and maintaining a conceptual thread, P&T Interiors' small staff of dedicated designers and architects focuses all their attention on each and every project to ensure that the highest of expectations are exceeded. Newest ventures for the firm include residences in the Hamptons and Connecticut, as well as a townhouse in Manhattan.
LUX Life Magazine notes:
"Each and every winner deserves their success and we are proud to be able to offer our readers an insight into the work that goes on behind the scenes to create the beautiful designs that many believe to be effortless."
Pol Theis notes:
"I am extremely honored to be receiving such an important award. I am grateful for this recognition. Every nominee is well-deserved and I am honored to be in such great company.
"The professional challenges I have faced over the years have strengthened me and made me more into the person I am today – a thorough professional who knows exactly what he wants; someone who sets his eyes on a goal and does not lose sight of it until it is achieved. Winning this award would not have been possible without the inspiration I have received from my colleagues, for whom I have the deepest respect and from whom I have derived the strength to challenge myself and perform better at each stage."
Source: P&T Interiors
Related Media
Additional Links