'NOT A TAME LION' Wins Best of Festival at the Arlington International Film Festival
Press Release
•
Nov 9, 2022
A monumental achievement for the Indie Documentary Feature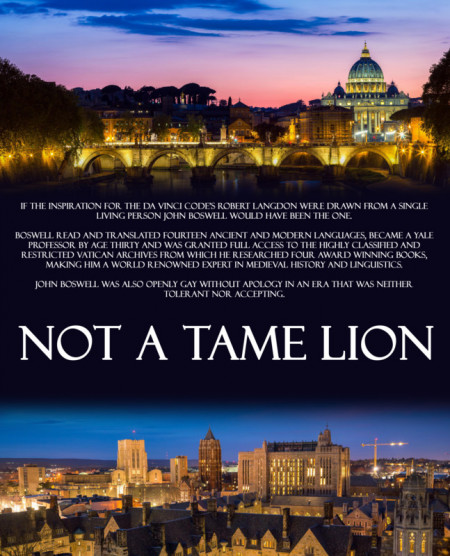 LOS ANGELES, November 9, 2022 (Newswire.com) - Treading Yesterday LLC announces that 'NOT A TAME LION' has won the Best of Festival award presented at the Arlington International Film Festival, in addition to winning the Festival Favorite and Director's Choice Awards during the Cinema Diverse Palm Springs LGBTQ+ Film Festival.
NOT A TAME LION, the Documentary Feature, recounts the life and works of John Boswell, the Yale Professor who read and translated 14 ancient and modern languages, became a Yale Professor by age 30 and was granted full access to the highly classified and restricted Vatican archives from which he researched four award-winning books, making him a world-renowned expert in Medieval History and Linguistics. John Boswell was also openly gay without apology in an era that was neither tolerant nor accepting. NOT A TAME LION offers first-hand accounts of Boswell's closest friends, students, colleagues and family members as they recount his life, his works and his final days during which he feverishly worked to complete SAME-SEX UNIONS IN MEDIEVAL EUROPE, a book that changed the trajectory of the Marriage Equality debate, all while privately battling the debilitating effects of AIDS, which led to his death on Dec. 24, 1994, at the age of 47.
The significance of winning the top award at the Arlington International Film Festival is remarkable, considering the quality of films and given that several in competition won honors at Sundance, Berlin, Cannes, and Toronto. This was not lost on the filmmakers, who expressed their thanks to the festival organizers for championing their film as well as to the Family and Friends of John Boswell who participated in the film's creation, among them, Patricia Boswell, John's younger sister who accompanied the filmmakers during the festival that is held annually just outside of Boston. According to Craig Bettendorf, the film's director, it's the authenticity of NOT A TAME LION that is resonating with festival juries and viewers alike, as they experience the story of a person who influenced society to such a great degree but who few remember in 2022.
Treading Yesterday LLC focuses on the creation of LGBTQ+ stories, including its original series, TREADING YESTERDAY which is now streaming on Tubi and on Dekkoo.
NOT A TAME LION is written and directed by Craig Bettendorf, produced and narrated by Kai Morgan, represented by Alex Nohe of Blood Sweat Honey and distributed by Indie Rights Movies, with an estimated release during the first half of 2023.
Source: Treading Yesterday LLC