North Carolina Small Businesses Borrowing More in January
Press Release
-
updated: Mar 15, 2018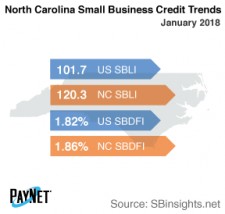 CHARLOTTE, N.C., March 15, 2018 (Newswire.com) - PayNet, the leading provider of small business credit data and analysis for the commercial and industrial lending industry, announces that in January 2018 North Carolina's small firm borrowing activity increased. Of the 18 major industries, ten rose, and eight fell in North Carolina.
Registering at 120.3, the PayNet Small Business Lending Index (SBLI) for North Carolina rose 1.2% from the previous month's state level and was 18.3% above this month's national SBLI level (101.7).
The three industries with the greatest improvement in lending activity over the past year in North Carolina were Wholesale Trade (31.2%); Admin & Support and Waste Management & Remediation Services (20.5%); and Manufacturing (16.6%). Nationally, Wholesale Trade grew by 3.8% year over year.
PayNet's Small Business Default Index (SBDFI) for North Carolina registered at 1.86%. Following a comparable value to December, North Carolina's SBDFI was four basis points greater than the national SBDFI level of 1.82%. North Carolina's SBDFI climbed 13 basis points over the last year, whereas the national SBDFI fell 2.
"We can cautiously anticipate improving financial conditions in North Carolina based on recent small business investment," explains William Phelan, president of PayNet.
Source: PayNet, Inc.
---
Categories: Small Business
Tags: Banking, Credit History, Economy, Lending, Local News, North Carolina, PayNet, SBDFI, SBDI, SBLI, Small biz, Small Business
---