Norman Brain Balance Achievement Center Designated Board Certified Cognitive Center
Press Release
•
updated: Feb 27, 2020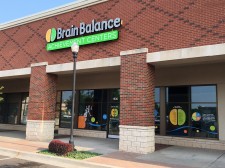 NORMAN, Okla., February 27, 2020 (Newswire.com) - Brain Balance Achievement Center of Norman, Oklahoma, has earned the Board Certified Cognitive Center (BCCC), designation granted by the International Board of Credentialing and Continuing Education Standards (IBCCES).
Brain Balance provides an integrative approach through sensory motor exercises, visual and auditory processing stimulation, academics and nutrition. The Norman Center is committed to providing the best assistance to their students, which has been enhanced by completing the IBCCES certification. The program requires student-facing staff to complete an individual professional training and certification program that focuses on working with individuals with anxiety, dyslexia, autism and ADHD.
"At Brain Balance of Norman, we are dedicated to helping the parents of our community understand the 'why?' behind their child's struggles. Not only can we explain what is happening, but we can address the root causes of those issues without the use of medication," said Andrea Rasbold, Norman Center Director. "The process to become a Board Certified Cognitive Center has greatly enhanced the knowledge of our already well-trained staff, adding additional skills to help our students. We are honored to be able to watch the transformations in these children and know that their lives will be forever changed because of our program!"
Other services they provide at Brain Balance of Norman include tutoring, mentoring, and overall quality care for their students.
For almost 20 years, IBCCES has been the industry leader in cognitive disorder training and certification for education, healthcare, and corporate professionals around the globe. IBCCES provides evidence-based training and certification programs created in conjunction with clinical experts and individuals with autism in order to provide professionals serving individuals with cognitive disorders a better understanding of what these disorders are, industry best practices, varied perspectives, and the latest research in these areas.
"The dedication of the teams at Brain Balance locations all over the U.S. is fantastic – we're happy to have Brain Balance of Norman as a certified center so they can support their team and dedicate their talents to helping more students," said Myron Pincomb, board chairman of IBCCES.
###
MEDIA CONTACT:
IBCCES
Meredith Tekin, President, IBCCES
904.508.0135 / 904.434.1534
Andrea Rasbold - Brain Balance Center of Norman
450-701-2581
normanokpd@brainbalancecenters.com
Source: IBCCES