Norfolk Naval Shipyard Celebrates 250 Years
Press Release
•
updated: Sep 19, 2017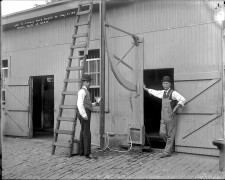 PORTSMOUTH, Va., September 19, 2017 (Newswire.com) - America's oldest and continuously operating shipyard, Norfolk Naval Shipyard (NNSY), will celebrate 250 years of shipbuilding, maintenance, and repair Nov. 1, 2017.
The title "first" provides a unique jewel in an institution's crown, a significant distinction that brings an undeniable pride. The first of the U.S. Navy shipyards to have been established as a shipyard is an especially grand label, for it highlights such a yard as a beacon of patriotism, strength, and determination that the entire country can trust and respect. This remarkable honor belongs to Norfolk Naval Shipyard.
During the past 250 years, this former colonial shipyard has assisted the nation in winning 11 major wars, putting an end to piracy, sending the Great White Fleet around the world, scientifically exploring the Pacific, and opening Japan to American trade.
Norfolk Naval Shipyard's many firsts include dedicating the nation's first dry dock, which is still in service and now a National Historic Landmark; constructing the Navy's first battleship, USS Texas; and converting the nation's first aircraft carrier, USS Langley.
Today, Norfolk Naval Shipyard is the fourth-largest employer in Hampton Roads — employing more than 10,500 civilians — all connected by the shared commitment to the Navy and our nation.
The 250th anniversary provides an excellent opportunity for Norfolk Naval Shipyard to build on the past, celebrate victories, and discover new and innovative ways to accomplish the mission of delivering ships and systems on time and at cost for the U.S. Navy.
Due not only its age, but its countless accomplishments during 250 years serving the Navy and nation, Norfolk Naval Shipyard has truly earned its designation as "America's Shipyard."
Contact Information
Public Affairs Office
Norfolk Naval Shipyard
Ph. 757-396-9550
C. 757-262-8096
terri.k.davis@navy.mil
Source: Norfolk Naval Shipyard
Related Media