Nonprofit Exposes Wholesale Drugging of Toddlers and Kids
Press Release
•
updated: Nov 3, 2016
With 8.4 million children prescribed psychiatric drugs in the U.S. alone, Citizens Commission on Human Rights (CCHR) Florida is calling on the FDA to investigate drugging for so-called ADHD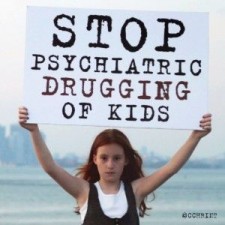 Clearwater, Florida, November 3, 2016 (Newswire.com) - ​​​​​In ADHD Awareness Month, CCHR Florida is called on the FDA to examine the facts behind the widespread drugging of children under the misdiagnosis of ADHD.
According to QuintilesIMS, an independent source of information about the pharmaceutical industry, in the United States alone, 8.4 million children are prescribed psychiatric drugs—1 million under the age of 5.
"Parents are being told that their child has a 'mental disorder,'" says Diane Stein, President of CCHR Florida. "But there is no independent, valid test for ADHD nor is there any data to indicate that ADHD is due to a brain malfunction. Yet the number of children being labeled with a 'brain-disorder' continues to climb."
A recent study conducted by the Centers for Disease Control and Prevention showed that approximately 11 percent of children ages 4–17 were diagnosed with ADHD as of 2011, and the numbers continue to rise.
Pediatric occupational therapist Angela Hanscom says her research points to an overlooked factor in the spike in ADHD diagnoses. She has traced the reason to the schools themselves. Because of increased academic demands, the natural outlets of sports and play have been drastically decreased in the child's school schedule. Gone are the days when children rolled down hills, climbed trees, spun in circles. Recesses are shorter. Kids rarely play outdoors now.
Ms. Hanscom tested several classrooms and discovered most children had very poor core strength and balance. In fact, only one in 12 children tested "normal." She suggests that fidgeting is a natural response to the confining environment of today's typical classroom.
The two commonly prescribed drugs for ADHD, Ritalin and Adderall, carry black box warnings. Their published side effects include agitation, aggression, mood swings, depression, thoughts of suicide, fast/pounding/irregular heartbeat, seizures, slurred speech and confusion.
"Dangerous psychiatric drugs are being given to infants and toddlers despite the known debilitating side effects of death, homicides and suicides that are reported in older children and adults taking these medications," said CCHR's Stein. "Why is this being done despite the known risks? Could it be because psychiatrists prescribing drugs can make up to four times as much as those who don't? Drugs prescribed for ADHD alone make billions every year."
Citizens Commission on Human Rights is a nonprofit charitable mental health watchdog organization cofounded in 1969 by the Church of Scientology and renowned psychiatrist Dr. Thomas Szasz. CCHR is dedicated to eradicating psychiatric abuses and ensuring patient protections. CCHR supports enactment of laws protecting individuals from abusive or coercive psychiatric practices, requiring informed consent for psychiatric treatment, ending enforced drugging and electroshocking of children, and mandating severe penalties for sexual abuse of patients by psychiatrists and psychologists.
Read the article on the Scientology Newsroom.
Source: CCHR Florida
Related Media