Noir Novel "Making Wolf" From Rosarium Publishing Wins Golden Tentacle Award
Press Release
•
Mar 15, 2016
Tade Thompson of Rosarium Publishing has won the prestigious Kitschies Golden Tentacle Award in the Best Fiction Debut Category for his novel "Making Wolf". A gritty thriller about a West African supermarket security guard turned homicide detective.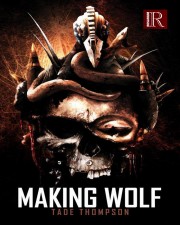 New York, NY, March 15, 2016 (Newswire.com) - A noir novel set in the blazing sunlight of the tropics, Making Wolf is an outrageous, frightening, violent and surreal homecoming experience of a lifetime.
The Golden Tentacle is awarded annually by The Kitschies as a vehicle to debut a progressive, intelligent and entertaining story that is the author's first published work of novel-length fiction in any genre. Now in its sixth year, the Kitschies reward the year's most progressive, intelligent and entertaining works that contain elements of the speculative or fantastic.
"...Making Wolf manages to excite and entertain in equal measure. A strong strange political thriller that oozes with one-liners and thrills galore." - Judge Nikesh Shukla (The Kitschies)

Nikesh Shukla , Judge, The Kischies
Other winners include prestigious novelist Margaret Atwood, seen congratulating Thompson at the Kitschies Awards party, who this year won top honors , The Red Tentacle Award for her outstanding work, The Heart Goes Last. A full list of winners are listed at the Kitschies website.
Rosarium Publishing was founded in 2013 by writer Bill Campbell who created a truly multi-cultural publishing company specializing in science fiction, comics, steampunk with a little crime drama thrown in. Both the stories and the artists are from all over the world representing different cultures, religious beliefs, sexual orientations and genres.
Thompson's Making Wolf is available on Amazon, Barnes and Noble and through Rosarium Publishing For more info please go to the Rosarium Publishing website.
For questions and interview inquiries please contact:
Karama Horne
Tiyland Media
646-338-1026
Tiylandmedia @gmail.com
Related Media
Tags
Additional Links