No Label Brewing's 'El Carlito' Wins at the Fredericksburg Craft Beer Competition
Press Release
•
Jun 14, 2023
El Carlito Begins Distribution Across Greater Houston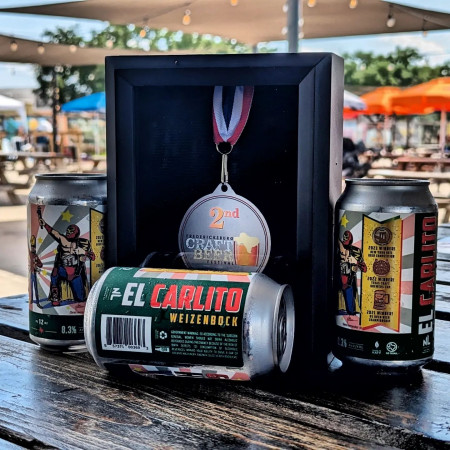 KATY, Texas, June 14, 2023 (Newswire.com) - No Label Brewing Co., a leading craft brewery located in Katy, Texas, is celebrating yet another milestone in its brewing journey. The brewery's esteemed El Carlito beer has once again been awarded high accolades, this time taking home the Silver Medal in the Wheat & Ryes category at the prestigious 2023 Fredericksburg Craft Beer Competition.
"We are overjoyed and truly honored to see El Carlito recognized once again at the Fredericksburg competition," said No Label's Co-owner, Tom Paynter. "This award is a testament to our commitment to craft quality, authentic, and flavorful beers. Every can of El Carlito echoes our dedication to the craft of brewing, and we're incredibly grateful that this passion continues to resonate with both the judges and beer enthusiasts."
This recent accolade adds to El Carlito's decorated honors list. The beer has previously been awarded the 2021 US Open - Bronze Medal, 2022 Texas Craft Brewer's Cup Bronze Medal, and a Bronze Medal at the 2023 New York International Beer Competition. "El Carlito, much like this brewery, may be small and unassuming, but it casts a large shadow - a true underdog beer, just at 8.3%."
Moreover, this latest achievement for El Carlito follows a successful streak for No Label Brewing Co. Over the past two years, the brewery has brought home an impressive 20 Craft Beer Marketing Awards, 3 Texas Craft Brewer's Cup medals, 4 Fredericksburg Craft Beer Competition awards, 4 New York International Beer Competition awards, one US Open medal, and one World Beer Cup.
To share this multitude of award-winning brew with the broader Houston area, El Carlito will now be available at HEB and Total Wine stores across the region. No Label Brewing Co. is thrilled to expand its distribution, ensuring that more Texans can experience the award-winning, rich flavor profile of El Carlito.
"No Label Brewing Co. stands for quality, innovation, and authenticity," added Paynter. "We aim to create beers that not only taste great but also represent the best of Texan brewing. Every award we receive fuels us to keep pushing the envelope, exploring new flavors, and celebrating the rich tradition of craft brewing in Texas."
About No Label Brewing Co.
Founded in the heart of Katy, Texas, No Label Brewing Co. is a family-owned craft brewery dedicated to creating distinct, high-quality beers. By blending tradition, creativity, and a profound love for brewing, No Label Brewing Co. has firmly established itself as a cornerstone in the Texas craft beer community, garnering recognition at both the national and international levels for its exceptional beers. "Despite all of our recent achievements, rest assured that we have no idea what we're doing. We're kids in the candy store and that candy is beer."

Source: No Label Brewing Co.