No Drugs, No Mafia is the Battle Cry in Southeastern Italy
Press Release
•
updated: May 2, 2018
When gang warfare erupted in Southeastern Italy and an innocent woman died, the town pulled together to end drug trafficking and drug abuse.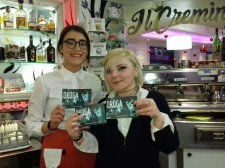 BITONTO, Italy, May 2, 2018 (Newswire.com) - ​​The death of Anna Rosa Tarantino, 84, killed December 30, 2017, in a shootout between competing drug mobs in the town of Bitonto, Italy, inspired a movement.
Town mayor Michele Abbaticchio held a press conference to announce a campaign to end the Mafia's threat to the lives and well-being of the people of the region: Stop supporting them by refusing to take their drugs. He decided to sponsor a music festival to be held to end drug trafficking and drug abuse in the region. He called it No Droga, No Mafia (No Drugs, No Mafia).
"The idea came spontaneously to me and to the musicians of Bitonto, and in coordination with the Bitonto Art Festival, we were able to launch an appeal to other artists to bring about this series of free events in popular nightlife venues," said Abbaticchio. Through this series of 16 events from Jan. 20 to May 1, the city wanted to impress upon the young people of the area that by consuming drugs — even so-called light drugs — they help line the pockets of these criminal organizations.
When the head of the Say No to Drugs Association of the nearby town of Bari first learned what the mayor was planning, she immediately offered to help make the program a success. She met with Mayor Abbaticchio and a city alderman to offer a partnership. Her group would help organize the events, flank it with drug education and, as the local chapter of Foundation for a Drug-Free World, she would provide all the drug education and prevention materials.
She and her volunteers distributed copies of the foundation's award-winning drug education materials at the concerts and set up drug information booths and drug prevention programs in local schools.
May 1 was the 16th and final concert of the season, but it was certainly not the end of the campaign. The Bari Say No to Drugs Association is carrying on with its program of drug education lectures and training for any educator or community leader wishing to deliver drug education.
Foundation for a Drug-Free World is a nonprofit public benefit corporation that offers the simple but powerful Truth About Drugs booklets that describe how drugs work and their mental and physical effects. There are 14 booklets in the series focusing on the most commonly abused drugs, exposing and debunking pro-drug myths with the truth about the short- and long-term effects of drugs.
Available in 22 languages, these illustrated publications are easy to understand, with each booklet featuring factual information and real stories from former users that strike a chord with people of all ages. The booklets encompass synthetic drugs, alcohol, ecstasy, cocaine, crack cocaine, crystal meth, inhalants, heroin, LSD, abuse of ADHD drugs, painkillers and prescription drug abuse.
The Church of Scientology and its members support the Foundation for a Drug-Free World, a secular nonprofit corporation that empowers youth and adults with factual information about drugs so they can make informed decisions to live drug-free. As shown on a program on the Scientology TV Network, the support of the church makes it possible for the foundation to provide drug education booklets, videos and educator guides free of charge to teachers, mentors and civic and community leaders.
According to the United Nations Office on Drug Abuse and Illicit Trafficking, "Every dollar spent on prevention can save governments up to ten dollars in later costs."
Source: ScientologyNews.org
Related Media