No. 1 Big Beautiful Women Dating Site LargeFriends.com Launches a New Version With a Brand-New Interface
Press Release
•
updated: Jul 19, 2018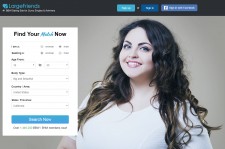 LOS ANGELES, California, July 19, 2018 (Newswire.com) - The internet's No. 1 big beautiful women dating website LargeFriends.com has upgraded its entire interface. Now with a brand-new homepage, this dating site for plus size singles is revolutionizing the dating scene.
The world's best big beautiful women dating site LargeFriends.com has recently updated its web design to cater for modern plus size daters. Now its homepage is best characterized by a big beautiful woman whose makeup is inspired by Dita Von Teese, a true 10. Her gorgeous cat eye makeup with wings is very attractive, charming and sophisticated. Statistics show that many big beautiful women on LargeFriends.com are real 9s and 10s who are confident and charismatic in love and in life. Therefore, this brand-new homepage is a genuine representation of most plus size daters on this platform. No wonder more and more curvy singles resonate with the message of LargeFriends.com.
Also, LargeFriends.com has deleted those bells and whistles on their previous homepage, so now its interface is completely streamlined. Users can only see what they actually need without any distractions.
Instead of using green as their theme color, LargeFriends.com has chosen blue as their new theme color now, because modern psychology indicates that blue looks best on big beautiful women – this color brings out the inner beauty of a radiant curvy lady effortlessly.
A new sign-in option is added on LargeFriends.com as well. Now members can use their Facebook accounts to log in easily. "Although you can sign in with your Facebook account, LargeFriends.com won't post anything on your Facebook timeline, so there is nothing to worry about. Protecting our members' privacy is our top priority," says Rex Y., Operation Manager of LargeFriends.com. "Of course, if a user still prefers a separate username and password, that's okay. The traditional sign-in option is still available. We have just added a new sign-in method."
Since the introduction of this new design, LargeFriends.com has attracted 12,882 new members in one week. Apparently, a growing number of plus size singles and their admirers are joining the big beautiful women dating website with their Facebook accounts.
"Another reason we incorporated Facebook sign-in option into our platform is that Facebook only allows people to use their real names. That means those who use our dating service are more trustworthy and reliable if they log in with their Facebook accounts, but their full names won't be displayed on our dating platform because we must protect our users' privacy," says Rex. "Trust is obviously the most important element in online dating in today's day and age."
Yes, Facebook only allows users to use their real names, and that's why people's behavior on Facebook is significantly better than their behavior on other social media platforms such as Twitter and YouTube where comments are much less polite than what you see on Facebook. Clearly, LargeFriends.com has considered this factor when they decide to incorporate Facebook sign-in option into their new web design. In this way, those who sign in with their Facebook accounts are more likely to be real people rather than robots. Hence, the quality of curvy singles on LargeFriends.com is guaranteed.
Having been in the online dating industry for 17 years, LargeFriends.com is designed for plus size singles and their admirers who are over 18 years of age.
To know more about LargeFriends, visit https://www.largefriends.com
To download the app, go to https://play.google.com/store/apps/details?id=com.bbwdating.largefriends
Source: LargeFriends.com