Nile Launches Smart Titration™ for Epilepsy Digital Care Platform
Press Release
•
Jan 6, 2023
Nile's Smart Titration™ provides simplified access to support physicians when building complex titrations for epilepsy medication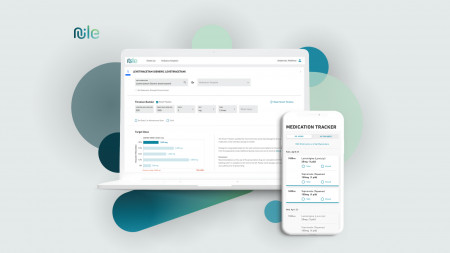 SHERMAN OAKS, Calif., January 6, 2023 (Newswire.com) - Nile AI, Inc. announced today that it has launched its Nile® Smart TitrationTM feature, designed to simplify for clinicians and patients the medication changes frequently utilized for people living with epilepsy. A unique offering among epilepsy patient apps, Smart TitrationTM provides simplified access to medication titration data and allows clinicians to quickly set medication titration schedules for commonly utilized anti-seizure medications (ASMs). Once set and reviewed, the clinician easily sends the updated schedule of medication changes directly to the individual's Nile epilepsy management app.
Nile's digital platform consists of a patient app and a clinician portal. The patient app is an intuitive, smart tool for patients to feel connected with their care team, learn about their journey, and understand and track their progress. The clinician portal offers the ability to view the status of patients at a glance, virtually informs and supports their patients in between appointments, and allows for more data-driven, efficient changes, if needed.
"We know that individuals living with epilepsy sometimes struggle with the many medication changes that may be required to gain better seizure control," said John Hixson, M.D., Chief Medical Officer of Nile AI, Inc. "We are working to provide better tools to facilitate optimal care and communication between clinicians and patients, and we hope that the Smart TitrationTM tool is another valuable part of a comprehensive care management platform for epilepsy."
About Nile
Nile AI, Inc., was created to improve care for people living with epilepsy, their caregivers, and healthcare providers (HCPs). Nile was founded with a clear mission in mind: to make the journey of every epilepsy patient more predictable. To that end, Nile offers an epilepsy care management platform that serves as a management tool for the healthcare provider (HCP) and provides patients with peace of mind between consultations, with the ultimate goal of shortening the path to optimal treatment.
Nile, Replacing Trying with Knowing®. For more information, visit www.Nile.ai.
Source: Nile AI, Inc.