Nika the Football-Mad Polar Bear Predicts 2017 FIFA Confederations Cup Results
Press Release
-
updated: Jun 17, 2017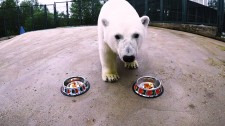 Moscow, Russia, June 17, 2017 (Newswire.com) - Picking up the reins from 2010 FIFA World Cup sensation, dearly-departed animal-clairvoyant Paul the Octopus, football-mad orphaned Polar Bear, Nika, is throwing her weight, and claws, behind her predictions for 2017 FIFA Confederations Cup match victors.
Whilst preparing for the 2017 FIFA Confederations Cup that kicks-off this weekend, Welcome2018 (The official tourist platform for the 2017 FIFA Confederations Cup and 2018 FIFA World Cup) received a call from the rescue centre and nursery of Moscow Zoo in a small village 100km outside of Moscow. Moscow Zoo was keen to share that they had a rescued polar bear, called Nika, with an uncanny ability to know what was going to happen in the future… and since being found as an orphan, she had developed an immense love for playing football.
Whether it is predicting a change in the weather, or the day the vet will visit — a bear with an uncanny ability to predict what's going to happen, and who likes nothing more than having a kick-around with a football? It's a match made in heaven!
Welcome2018 went to meet Nika, who in-between playing with her favourite football, took some time out to demonstrate her prediction skills for some upcoming matches in the first round of the tournament with a game of 'guess the 2017 FIFA Confederations Cup match victors.'
A spokesperson for the centre revealed how Nika came to join them as a rescue bear: "Last summer, we learned of a young bear wandering alone in the village of Ryrkaipiy (Chukotka), located on the migration route of polar bears. Employees of the WWF Russia Bear Patrol, the Russian military and Moscow Zoo set-about rescuing the 8- 9-month-old bear, who would be unable to survive in the wild. Through the efforts of all involved, she is now a healthy and beautiful animal. We are so happy to have Nika here, and hope for her to play a valuable role in our reproduction and conservation programme for polar bears."
Nika's keeper, Alexander Igorov, added: "we realized that Nika has some special talents. She senses in advance if people will come to visit. She has the gift of seeing the future and hides or shows interest when she wants something. She plays really well with footballs and swims with them in the pool. She loves them; so much that she sometimes uses them as her pillow when she sleeps."  
Nika's fans can't wait to know her predictions for a selection of the 2017 FIFA Confederations Cup first round matches are, so here are her the latest picks. When Nika starts to eat from the bowl of her match-winning favourite, she has made her prediction. She'll be keeping everyone updated with regular videos for a selection of matches throughout the tournament.
Nika the Bear's result predictions:
Nika the Bear's backstory:
·       here: https://youtu.be/8KRSELTKDzs
All videos can be downloaded here: https://lion.box.com/s/tmq41kdricjtm5m4jrw6cu6s7aafm7fm
Find out more about the FIFA Confederations Cup 2017 and FIFA World Cup 2018 at welcome2018.com and see how accurate Nika's predictions are by watching the action of the tournament between June 17 and July 2.
If you would like to help bears and animals like Nika, Moscow Zoo have set up a programme to adopt an animal called Guardianship. Further details on this can be found at http://moscowzoo.su where you can help support efforts to care for animals in need.
Svetlana Vladimirovna Akulova, Director of the Moscow Zoo, notes: "Since its inception, the Moscow Zoo has as its main goal the preservation of the biodiversity of our planet. Pollution and habitat loss, poaching and the effects of climate change increase the pressure on nature. At the current rate of development of civilization, by the year 2050, about 10,000 species can disappear from the face of the earth. The Moscow Zoo together with other zoos of the world is doing everything possible to preserve these species. Guardianship is an excellent opportunity to participate in the conservation of rare species, to help us in the implementation of environmental programmes."
-ENDS-
Media Contact: 
Blair.metcalfe@mslgroup.com
Phone: +447740190901
Email: russia2018@mslgroup.com
Notes to editors:
For more images, videos and back story of Nika ​— please find assets in this link: https://lion.box.com/s/tmq41kdricjtm5m4jrw6cu6s7aafm7fm
About Welcome2018:
This information has been presented to you on behalf of Welcome 2018™. The online tourist platform for the FIFA Confederations Cup 2017 and FIFA World Cup 2018. Please feel free to reach out to us for any press or communications enquiries you may have for either of these tournaments. For more information, visit www.welcome2018.com.
About Moscow Zoo:
The Moscow Zoo is one of the oldest zoos in Europe. It was opened on January 31, 1864 and was then called the zoo garden. The Moscow Zoo was developed by the Imperial Russian Society for the Acclimatization of Animals and Plants. The beginning of its existence is associated with remarkable names and the professors of the Moscow University Karl Franzevich Roulet, Anatoly Petrovich Bogdanov and Sergei Alekseevich Usov. For more information on the zoo's history, visit http://moscowzoo.su/about-zoo/history.
Source: Welcome2018
Share:
---
Categories: Celebrities, Sports, Fitness, and Recreation, General Interest, Lifestyles, Sports News, News
Tags: Bear, Confederations Cup, FIFA, Nika the Bear, Polar Bear, Prediction, Psychic, Soccer, World Cup
---