Nia Sioux of 'Dance Moms' Stars in Upcoming Theatrical Movie 'SUMMER DANCE'
Press Release
•
updated: Sep 21, 2017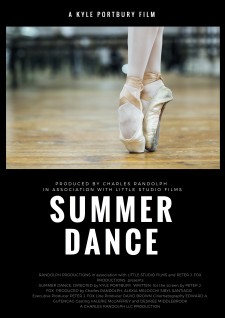 Los Angeles, CA, September 20, 2017 (Newswire.com) - Nia Sioux has grown up in front of our eyes through her role in the popular TV show "Dance Moms." Through Alexia Melocchi of Little Studio Films and producer and entrepreneur Charles Randolph, Nia will soon begin a new project, acting on screen in the upcoming film, "Summer Dance," which will begin shooting this October.
Throughout the years on "Dance Moms," Nia's professionalism and grace in dance earned her respect both in and outside of the dance community. Every week, viewers tuned in to see Nia bring a choreographed dance to life, and through her work, she has developed an immense following of fans around the world. Last year, Nia was a member of the company in the Off-Broadway show "Trip of Love," and she's also proven herself to be a contender in the music world with her singles gaining millions of views on YouTube. Nia Sioux is considered to be a triple threat in the entertainment industry as a truly dynamic and dedicated performer in every project she takes on.
"Summer Dance" is directed by Australian filmmaker, Kyle Portbury, and it tells a story of a teenage boy who is sent to work summer camp after his mother finds out he got a D in school. When the boy gets to the camp, he finds himself falling for an incredibly talented dancer named Jasmine, played by Nia Sioux, who dreams of becoming a principal dancer at the world-renowned Alvin Ailey American Dance Theater. His mother, a former ballerina, gave up her dreams of dancing to raise a family and her past becomes relevant when she discovers her son's love for Jasmine and will stop at nothing to break them apart.
The film, from a script by Venu journalist Peter J. Fox, is being produced by Charles Randolph of Charles Randolph Productions and Alexia Melocchi of Little Studio Films. Dance is one of the central focuses of the film, so it was important that the best of the best in the dancing sphere were involved in this project. Randolph Productions and Little Studio Films enlisted experienced choreographer, Kitty McNamee, for the dancing portions of the film to bring the characters to life. McNamee is currently choreographing "Firebird" for the LA Philharmonic.
Charles Randolph and Little Studio Films are thrilled to see Nia Sioux breathe life into the character of Jasmine!
Source: Little Studio Films
Tags
Additional Links