NFL Teams Incorporate Ultrasonic Sound Waves Into the Gameday Experience Using Startup CUE Audio
Press Release
-
updated: Jan 23, 2020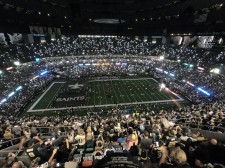 NASHVILLE, Tenn., January 23, 2020 (Newswire.com) - The 2019-20 NFL season has more surprises than a Patriots' early playoff exit. In particular, four NFL teams, including the New Orleans Saints, Kansas City Chiefs, Green Bay Packers, and Houston Texans, have all introduced an innovative pre-game ritual: A smartphone light show using ultrasonic sound waves to connect and synchronize mobile devices. 
How exactly does this ultrasonic light show work? Teams partner with a Nashville-based startup, CUE Audio, to embed high-frequency sound waves into their introductory hype-up video. These sound waves are too high-pitched for humans to hear, but can be detected by your average smartphone with high accuracy. Fans open an app during the intros that listens for these ultrasonic sound waves, syncs in a "Shazam-like" fashion, and lights up to the beat of the music, all while displaying player photos and team messages on their mobile screens. 
So what does this look like as tens of thousands of fans strobe their flashlights in unison? After each game, dozens of photos and videos are posted to social media channels by fans -- and you can view some of that footage for yourself here. 
The New Orleans Saints, the first NFL team to introduce this innovative fan engagement experience, have had impressive results. By incorporating the CUE Audio software directly into their official Saints app, download rates have reached an all-time high since the initial week of app publication. Well over 50,000 new downloads were garnered in a matter of weeks and, on the home opener alone, light show engagement accounted for 39% of all app clicks.
"The reaction to the light show," says Kyle Campbell, Director of Game Day Entertainment for the Saints, "has been incredible. Our fans, administration, and the media has loved it." Ira Akers, Co-Founder at CUE Audio, after seeing the light show in person said, "Seeing tens of thousands of the most dedicated fans in sports participate was out of this world."
While crowd-sourced lighting solutions have existed for a number of years, CUE Audio's product is unique in its use of ultrasonic audio and the smartphone as the lighting source. Compared to disposable wristbands, like those used by Taylor Swift, smartphones have massive environmental benefits. This has been a decisive sales factor as brands increasingly look to reduce consumption of single-use plastics and achieve carbon neutrality. 
As for the secret to CUE Audio's rapid success? Jameson Rader, CUE Audio's Founder and Forbes 30 under 30, says it's sound. Operating in over 100 major arenas and stadiums, CUE Audio only uses the existing speaker infrastructure. CUE never adds additional hardware and doesn't rely on a WiFi or cellular connection. "The critical payload is embedded into the sound waves themselves," says Rader.
As for upcoming growth, CUE Audio has seen increased adoption of ultrasonic audio in fan engagement with nearly 50 NCAA partner schools and several NBA teams deploying the new tech. 
Source: CUE Audio
Share:
---
Categories: Sports-related Business
Tags: Football, Forbes, NFL, Sports, Startups, Tech
---