NFL Is Collaborating With Vice City VIP for a New Upcoming Film Based on Miami Native Chad "Ochocinco" Johnson's Life
Vice City VIP was chosen as the top VIP exotic car rental agency in Miami Beach and all of South Florida for the company's up-to-date inventory and for how well all the cars are maintained compared to their competitors.
Press Release
-
May 13, 2016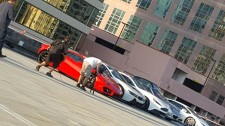 ​Davie, FL, May 13, 2016 (Newswire.com) - The National Football League (NFL) has chosen Vice City VIP for exotic cars that will be displayed in an upcoming film about ex-NFL player Chad Johnson's life. Johnson is a native to Miami, Florida, and played ten seasons for the Cincinnati Bengals before being traded to the New England Patriots in 2011. He has since left the NFL but hopes to make a return. The NFL is creating a film about the player's life and chose Vice City VIP for its fleet of exotic and luxury cars.
"We are happy to partner with the NFL and Chad Johnson on this project and appreciate their interest in Vice City VIP," says Carmine Paniagua, CEO of Vice City VIP. "We were chosen not only for our wide selection of luxury and exotic cars but because we have the most up-to-date selection and for how well our cars are maintained."
Vice City VIP, Miami's leading luxury and exotic car rental services, specializes in offering esteemed clientele some of the world's finest automobiles designed to allow drivers to show off their style and class. The company maintains a premium fleet of luxury and exotic automobiles from manufacturers across Europe. They offer their clients a worry-free service and the thrill and excitement of driving the newest Lamborghinis, Ferraris, Bentleys, S-Class Mercedes and more.
More than just a car rental business, the company provides luxury experiences and the ability for people to live out some of their dreams of driving luxury and exotic cars. Vice City VIP offers online services so those interested can reserve from anywhere in the world with a few simple steps. The company aims to treat their clientele like the celebrities they are and fulfill their dreams.
"Our business motto allows us to cater to all of our clients' price points without needing a superstar bank account," adds Paniagua. "Most importantly, we treat our customers with the respect and integrity that they deserve. We don't just rent cars, we rent experiences that you can't find anywhere else."
Vice City VIP is interested in forming other collaborative working relationships like the one recently established with the NFL. To learn more and see the company's selection, visit ViceCityVIP.com.
About Vice City VIP
Headquartered in Miami, FL, Vice City VIP is a client-centric company dedicated to providing high end luxury and exotic cars to Miami's driving enthusiasts. For more information, visit ViceCityVIP.com.
Source: Vice City VIP
Share:
---
Categories: Automotive, Car Rental
Tags: chad johnson, miami beach luxury car rentals, NFL, south beach exotic car rentals, south beach luxury car rentals
---