NFL Alumni PRO DAY Experience Launches National Event Series in Minnesota
NFL Alumni and Microsoft launch national event series featuring Youth Football Combine and Sports Science Technology
Press Release
-
updated: Jul 20, 2018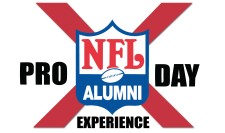 MINNEAPOLIS, July 20, 2018 (Newswire.com) - Former Vikings Head Coach Mike Tice and Dr. Jen Welter, the NFL's first female football coach, will lead the kickoff of the NFL Alumni PRO DAY Experience powered by Microsoft on Saturday, Aug. 11, and Sunday, Aug. 12, at the Eden Prairie High School (Minnesota) athletic complex.
The NFL Alumni PRO DAY Experience, in an educational partnership with Microsoft, is an opportunity for boys and girls ages 13-18 to participate in a unique experience modeled after the NFL Combine, along with a hands-on Microsoft technology workshop.
Teenagers can sign up online: www.nflalumniproday.com.
This is a national NFL Alumni Association event kicking off in Minnesota.  
2018 schedule:
Minnesota:  Aug. 11 and 12
 
Charlotte:  Sept. 8 and 9
 
Dallas: Sept. 15 and 16
"The NFL Alumni Association is pleased to launch our PRO DAY Experience series in Minnesota," said Bart Oates, president of the NFL Alumni Association. "Incorporating our membership into youth outreach in our communities with both on- and off-the-field education is a large part of our mission."
"Thanks to the educational curriculum of Microsoft and the leadership of our NFL Alumni chapters, we are launching these exciting events. This is an on-going national series for our NFL Alumni members to positively engage in their communities across America," said Dean Dalton, president of the NFL Alumni PRO DAY Experience. "It is great to empower young men and women through life skills, sports science education, participating in drills and a cool technology workshop being led and mentored by members of the NFL Alumni Association." 
SPORTS SCIENCE FUN
This educational sports event is open to all boys and girls ages 13-18 and is 100 percent non-contact. In addition to the on-field activities with former NFL players and coaches, the Microsoft technology portion of the PRO DAY Experience focuses on computer gaming coding on Surface laptops and robotics plus learning how RFID Sensors, GPS Analytics and Electronic Interval Timing are utilized in sports.
More than 20 NFL Alumni will join Coach Tice and Dr. Welter for Minnesota's PRO DAY Experience including:
Chuck Foreman: Vikings Ring-of-Honor Great
Gus Frerotte: Vikings QB, Redskins, Lions, Dolphins, Bengals, Broncos and Rams
Byron Chamberlain: Vikings Pro Bowler and Broncos Super Bowl Champion
Dave Dixon: Vikings legend (Burnsville High School, MN, assistant coach)
Matthew Hatchette: Vikings Wide Receiver and NFLPA Bowl Game Coach
Michael Lehan: Golden Gopher Great and NFL star (Principal - Osseo High School, MN)
Willie Howard: Vikings and Stanford Great (Head Coach - Robbinsdale High School, MN)
Stephan Baker: Super Bowl Champion - NY Giants Wide Receiver "Touchdown Maker"
Corey Mays: Notre Dame legend and NFL Linebacker (Notre Dame MBA)
Tellis Redmon: Golden Gopher Great and NFL Running Back (Robbinsdale High School, MN, assistant coach)
The NFL Alumni along with area coaches will lead the on-field skills testing and drills along with 30 Microsoft experts who will engage in the technology activities.
"Skills, drills, sports science, technology and fun all come together to make for a lasting memory and positive experience," Dalton, a former high school principal, college coach and Minnesota Vikings coach added. "The Minnesota NFL Alumni Chapter has been instrumental in this launch with great national support from NFL Alumni President Bart Oates every step of the way. We're excited to bring this unique experiential event to the teenage girls and boys of Minnesota and having a fun day with these former NFL leaders."
Activities Include:
Coaching and personal interaction with NFL Alumni players and coaches all day
NFL Combine measurement stations and football skills drills using the same technology the pros use
Engagement stations featuring Sports Science, Nutrition, Brain Health, Financial Goal Setting
Microsoft workshop featuring:
Surface laptops
Game coding
Robotics
Invitation to future workshops at Microsoft Innovation Lab for free!
Custom Shirt, Earbuds and custom apps to download
Lunch from Noodles
Students will be separated into age groups:  
13/14-year-olds and 15/16-year-olds participating on Aug. 11 
17/18-year-olds participating on Aug. 12  
Register at:  http://NFLAlumniProDay.com
Minnesota sponsors include Microsoft, Wings Financial Credit Union, the National Guard, General Mills, CUB Foods, Minneapolis Marriott Southwest, Maverick Drone, Noodles, Augusta Sportswear and Twin Cities Orthopedics.
MEDIA INTERVIEW REQUESTS for any of the NFL Alumni players and coaches attending the event or PRO DAY Experience leadership can be arranged by contacting Kernal Buhler at kbuhler@nflalumniproday.com or calling (612) 396-8285.
Source: NFL Alumni PRO DAY Experience
Share:
---
Categories: Sports-related Business, Football
Tags: ALUMNI, COMBINE, MICROSOFT, MINNESOTA, NFL, PRO DAY
---