NEXTAFF's Lisa Meyers Recognized as a 2023 Franchise Rock Star by Franchise Business Review
Press Release
•
Jul 18, 2023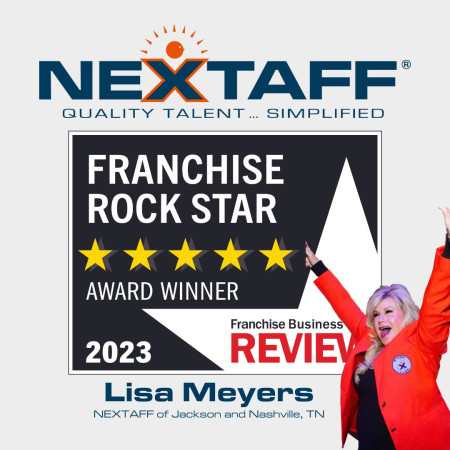 NASHVILLE, Tenn., July 18, 2023 (Newswire.com) - NEXTAFF's Jackson and Nashville, Tennessee, franchise owner Lisa Meyers was identified by franchise research firm Franchise Business Review as being one of 2023's Franchise Rock Stars.
Meyers was selected from over 36,000 franchisees, representing more than 360 brands that participated in Franchise Business Review's research.
The Franchise Rock Stars were nominated by their franchise brand's leadership in one of eight categories as franchisees who set admirable examples when it comes to leadership, business acumen, financial and professional success, and contributing to their community. Categories included Giving Back, Women, Millennials, Veterans, Family-Owned, "Freshmen," Top-Performers, and Multi-Unit Owners.
"Lisa is the ultimate competitor and always looking for her next win," says Cary Daniel, NEXTAFF co-founder and CEO. "What separates Lisa is that she and her team will still offer time out of their busy schedules to help and mentor other owners. It's one of the qualities I love most about Lisa and her team."
"I'm truly honored and humbled by being selected as one the 2023 Franchise Rock Star recipients. From my first day of being a franchise owner, my mission was to give back to others," said NEXTAFF of Jackson and Nashville owner Lisa Meyers. "Throughout my professional career, I have had the opportunity to be on the receiving end when someone gives their time and patience. Therefore, it has become a passion to give back to others. With NEXTAFF, not only can I give back to associates and help them find a job, I also am thankful I am able to be a mentor to new franchise owners and give them the resources to have a successful start in their business. In the staffing arena, you are only as successful as your team; therefore, I would like to recognize my wonderful employees, Baily and Krista, who are rock stars themselves. They go above and beyond in helping us always continue to strive toward our staffing goals and help find the best fit for our associates and clients. Lastly, I would like to thank NEXTAFF co-founders James and Cary for always believing in me and my dream to grow NEXTAFF across Tennessee."
Visit FranchiseBusinessReview.com to see the full list of 2023 Franchise Rock Stars.
About NEXTAFF
NEXTAFF helps companies recruit, screen and hire quality talent through a proprietary X-FACTOR™ model. Our comprehensive approach is designed to considerably outperform a traditional temp agency supplier model. Each NEXTAFF office is locally owned and operated, which allows our clients to work directly with owners in finding quality employees. NEXTAFF offers a variety of custom staffing solutions in commercial, healthcare and technology verticals.
For more information about NEXTAFF, visit https://www.nextaff.com/. Those interested in franchise opportunities can visit https://www.nextaff-franchise.com/.
Source: NEXTAFF