Next Space Development Completes StateSide Student Housing Project Despite Weather Challenges
Press Release
•
Sep 15, 2023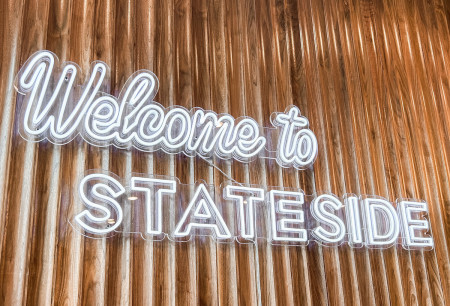 SAN DIEGO, September 15, 2023 (Newswire.com) - StateSide, a new student housing community near San Diego State University, opened its doors as scheduled, despite this year's challenging weather conditions. The timely opening comes in the context of the year's near record rainfall that has delayed the completion of several other student housing construction projects in the area, leading to a shortage of available units for the academic year.
"We're talking historic levels of rainfall, almost 60 percent above our annual average and nearly double what some San Diego communities receive in a normal year," said Rudy Medina, founding partner of Next Space Development, the development company responsible for StateSide. "This kind of weather wreaks havoc on construction schedules and causes a lot of anxiety. Imagine our relief, being able to open our doors on time and greet students on move-in day."
StateSide is a 27-unit, 130-bed off-campus student residence ideally situated on Montezuma Road near College Avenue - just blocks from the SDSU campus. The project was developed by Next Space Development and Pacific Residential, LLC to meet SDSU's growing demand for student housing. It is managed by Campus Life & Style, one of the nation's leading operators of student housing communities.
Other area student housing projects scheduled for completion this fall were held up by the weather, leaving more than 1,500 students scrambling to find a place to live before school started. Delays have impacted student housing construction at UCSD, as well as a development adjacent to SDSU slated to open in August. Move-ins there aren't expected until mid-October, at the earliest.
Medina expressed gratitude to "the team of seasoned professionals behind StateSide, including our subcontractors, South Coast Interior Design Team, the City of San Diego, all the folks at SDSU, and the students and parents who chose to move into StateSide. They trusted us to deliver an extraordinary place to live, study and socialize, and we delivered," he said.
StateSide was 100% leased months before opening. Tenants include the SDSU women's basketball team, which leased the entire first floor for its 12-foot ceilings. The red and black residence with accents of gray (SDSU's Aztec colors), broke ground in December of 2021.
About Next Space Development
Next Space Development (NSD) specializes in residential multifamily, mixed-use, student housing and value-add development projects. Founded by visionary real estate developer Rudy Medina and construction specialist Richard Simis, NSD brings together experienced professionals, each with a successful track record of concept development, capital formation, construction and renovation, and community management. For more information visit nextspacedev.com.
Source: Next Space Development
Related Media