Next Generation Collaborative Robot Now Available in Ohio
Press Release
•
updated: Feb 26, 2019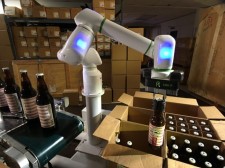 COLUMBUS, Ohio, February 26, 2019 (Newswire.com) - ​Columbus based Oylair Specialty, a leading distributor for Fluid Power, Motion Control and Automation Systems, has announced exclusive representation of US Collaborative Robot Manufacturer, Productive Robotics of Carpinteria California for the Ohio market.
A Collaborative Robot, or "Cobot," is a type of Industrial Robot which can work safely alongside people. Unlike traditional industrial robots, a Cobot does not have to be isolated within a cage or barrier because they stop safely if they come in contact with a fellow worker. Cobots can be used for machine tending, assembly, packaging, painting, welding, buffing, and many other tasks. The Cobot's potential for automation makes these tasks a practical and affordable option for all size manufacturers. However, to truly qualify as a Cobot, it must conform to International Safety Standards as set forth in ISO specification 10218.
In addition to meeting or exceeding all safety standards, Productive's OB7 Cobot incorporates innovative "Next Generation" technology. It does not require any programming or coding as it learns its tasks from a human teacher, who manually moves it through the steps of the job. Employed without complicated integration, OB7 is quickly set up and used by existing staff with little or no training. Additionally, like the human arm, OB7 has 7 moving joints that can rotate 360 degrees in both directions for maximum maneuverability in tight spaces or around objects or obstacles in the work area.
"Oylair has been serving the manufacturing industry here in OHIO with products and services since 1958. I believe that COBOTS offer our customers a completely new dimension for increased production, quality improvement, and cost reduction", says Oylair CEO Darren Webb. "Cobots can provide an edge that small and medium manufacturers need to compete with industry giants. Plus, without programming, they can be set up and used with existing personnel quickly and easily. We are very excited and honored to be a partner with Productive Robotics and part of what I feel is a revolution in automation."
For more information on the collaborative robot OB7 and other manufacturing products visit Oylair's website or www.robotohio.com.
Source: Oylair
Related Media
Tags