New York on Tech Announces 40 Judges for the 2019 Innovators & Disruptors Awards
Press Release
-
updated: May 15, 2019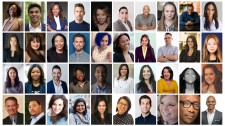 NEW YORK, May 14, 2019 (Newswire.com) - Today New York On Tech (NYOT), the premiere early pipeline tech talent accelerator working to create pathways to innovation for the next generation, announced its 40 judges for the 2019 Innovators and Disruptors Awards & Ceremony.  
The Innovators and Disruptors Awards & Ceremony will celebrate the outstanding achievements of 20 leaders in technology and 5 Ultimate Innovators and Disruptors in the field. Award winners are diverse founders and professionals from some of the world's most recognized companies and fastest growing startups who are leaving a measurable impact on the industry and in their respective fields of work. Nominate a leader in technology today by visiting the event website! The deadline for nominations is Friday, July 19, 2019 at 11:59 p.m. EST.
The organization will be announcing its Power Panel this summer and the award winners in September 2019. The 2019 Innovators and Disruptors Awards & Ceremony will take place October 24th from 6:00 pm to 9:00pm at Current @ Pier 59, Chelsea Piers, New York, NY 10011. Proceeds from this event will go towards supporting NYOT's technology education programs.
"We are excited for this year's Innovators and Disruptors Awards & Ceremony and thankful for the community and supporters that make this event possible." said New York On Tech Co-founders, Jessica Santana and Evin Floyd Robinson. "The Innovators and Disruptors Awards is truly a needed platform in our industry to ensure we are elevating the stories and achievements of professionals who are leaving a lasting impact in their fields and communities."
This year's Judges were selected for the contributions to their field. The judges will score every nominee in their respective category against four different standards: Their character, their community involvement, their contribution to their field and/or industry and how the Innovators and Disruptors platform can help elevate their voices and careers.
Below you can find the full list of judges for this year's 2019 Innovators and Disruptors Awards.
2019 JUDGES
Alyssa Henry Gonzalez, Senior Director, Workplace Engineering, CBS Corporation
Anthony Izzo, Manager, Talent & Culture & Researcher, NBCUniversal
Dayanna Torres, Director, Economic Opportunities and Business Partnerships, JobsFirstNYC
Elise James DeCruise, VP, Head of Multicultural Marketing and Inclusion, MediaMath
Elizabeth Galbut, Managing Partner, SoGal Ventures
Evin Robinson, Co-founder & President, New York On Tech
Jan Fiegel, Head of Talent, Sidewalk Labs
Jeff Delaney, Lead Partner Manager, News, Twitter
Jonathan Jackson, Nieman-Berkman Klein Fellow, Journalism Innovation
Juan Fuentes, VP, Digital Sales Planning, NBCUniversal
Kai Bond, Principal, Comcast Ventures & Catalyst Fund
Kate Haberbusch, Director of Product Management, Daily Burn
Kathryn Minshew, Co-founder & CEO, The Muse
Kathryn Hurley, Legal Counsel, Product & Tech, Spotify
Katie Morse, VP, Digital Marketing, Nielsen
Laura Patel, Director, Global Partnerships, DIRTT Environmental Solutions  
Lauren Lopez, Sr. Director, Human Resources, NBA
Logan Cohen, Co-founder & CEO, Kudzoo
Marina Hadjipateras, General Partner, Trailmix Ventures
Mia Scott, VP, Communications, Nielsen
Michael Texidor, VP, Learning & Development, IAB
Michael Hahn, SVP & General Counsel, Interactive Advertising Bureau
Peter Nesbitt, VP, Finance, Teampay
Prerna Singh, VP, Product, CoEdition
Priscilla Kwak​, Assistant Vice President, NYCEDC
Rachana Kumar, Director, Engineering, Etsy
Ranjeeta Baijnauth, Director, Account Management, Interactive Advertising Bureau
Rebecca Wessell, VP, Data & Emerging Technologies, JPMorgan Chase & Co.
Rob Hayden, Director of National Real Estate Sales, Jetty
Rose Kue, UX Lead, Machine Learning, Planned Parenthood
Roxanne Mustafa, Senior Product Designer and D&l Leader, Pivotal Labs
Sacha Thompson, Inclusion Marketing Lead, Amazon Web Services
Sallie Jian, Program Manager, SAP.io, SAP (Corporate VC)
Sonia Kedzierski, Director of Product Management, Etsy
Suranjit Tilakawardane, Sr. Director, Business Development, CNN
Tameka Vasquez, Associate Director, Marketing, Eigen Technologies
Tatiana Holifield Arthur, VP/Head of Digital Strategy, Pacers Sports & Entertainment
Tom Ogletree, Sr. Director, Social Impact, General Assembly
Tony Jackson, SVP, Engineering, Gallery Media Group​
Ukachi Anonyuo, Executive Director, The Estée Lauder Companies
Consider joining NYOT on October 24, 2019 during the Innovators and Disruptors Awards. The event will be hosted from 6:00 p.m. - 9:00 p.m. at  Current (Pier 59, Chelsea Piers, New York, NY 10011) in New York City. Early Bird Tickets are currently on sale and General Admission Tickets will go on sale August 4, 2019. If you wish to sponsor the event, please reach out to Ariel Rutigliano by emailing ida@newyorkontech.org.
About New York On Tech
New York On Tech (NYOT) is an award-winning, early pipeline technology talent accelerator on a mission to prepare the next generation of leaders by creating pathways into degrees and careers in technology. Founded in 2014, NYOT's work has been featured in Forbes, CNN, The Huffington Post, TechCrunch, BET and other leading publications. NYOT has also been awarded by Forbes 30 Under 30, Wells Fargo and the Brooklyn Borough President's Office.
CONTACT: Ariel Rutigliano, ida@newyorkontech.org
Related Links:
https://www.youtube.com/watch?v=FqYbWcklVVk
https://www.innovatorsanddisruptors.com/​
Source: New York On Tech
Share:
---
Categories: Business Technology
Tags: Disruptors, Innovators, Technology, Underrepresented Leaders
---