New York Joins Over 100 Cities in Global Commemoration of the 60th Tibetan National Uprising Day
Press Release
•
updated: Mar 8, 2019
Thousands of Tibetans, Uyghurs, Taiwanese, Hong Kongers, Chinese democracy activists and supporters strengthen alliance against Xi's totalitarian regime.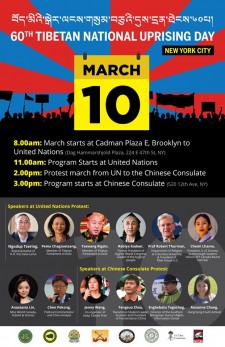 NEW YORK, March 8, 2019 (Newswire.com) - 2019 marks both the 60th anniversary of the Tibetan National Uprising and the 30th anniversary of the Tiananmen Square Massacre. With over one million Uyghurs currently detained in internment camps, March 10, 2019 marks an important symbol of solidarity among those affected by China's abuse. Leaders from Students for a Free Tibet and seven of New York's largest Tibet groups, along with supporters commemorate Tibetan National Uprising Day in New York.
WHAT: On March 10, 2019, an estimated 3,000-5,000 Tibetans and their supporters in New York will join the global commemoration of the 60th anniversary of the Tibetan National Uprising. Speakers from prominent pro-democracy and human rights groups will address issues ranging from political prisoners in Tibet and internment camps in East Turkestan (Chinese name: Xinjiang), to foreign intervention and censorship on U.S. and Canadian university campuses.
WHY? On March 10, 1959, tens of thousands of Tibetans took to the streets of Lhasa — Tibet's capital — rising up against China's illegal occupation of Tibet. The uprising was violently quelled by the Chinese military, resulting in thousands of deaths. In the six decades since March 10, 1959, 1.2 million Tibetans have been killed, 6,000-plus monasteries have been demolished and more than 100,000 Tibetans have fled to exile as a direct result of the Chinese occupation. March 10 has become an iconic day of uprising among Tibetans and their supporters. This year, China began barring foreign travelers from Tibet weeks ahead of the significant March 10 anniversary.(1)
Brutal reprisals by the Chinese authorities for openly expressing political dissatisfaction has led to an increase in Tibetan self-immolations, with over 155 since 2009, all calling for the return of His Holiness the Dalai Lama, freedom and independence. To this day, China rules Tibetans with an iron fist and Tibet is ranked as the second-least-free place in the world (directly after Syria and ahead of North Korea) in the annual Freedom in the World report published by the Washington-based Freedom House, a nonprofit that advocates for democracy around the world.
Under Xi Jinping's increasingly totalitarian rule, the brutal crackdowns against voices demanding freedom, democracy and human rights across China and its occupied territories have intensified. In Tibet today, there is no freedom of speech, assembly, press or religion. The Chinese government is determined to wipe out all traces of Tibetan national identity in an attempt to stifle any form of dissent among Tibetans. Recently, the attempts to monitor and censor behavior of dissidents have even spread beyond the confines of China's borders, reaching as far as the U.S. and Canada.(2)
WHEN & WHERE: (For Media Invitation Only)
11.30 a.m.: Protest Starts at United Nations (Dag Hammarshjold Plaza, 224 E. 47th St., New York)
1:30 p.m.: Protest from United Nations to Chinese Consulate (520 12th Ave., New York)
Photo Op: Massive protest - thousands of protesters (Tibetans and non-Tibetan locals) with Tibetan flags and placards marching for Tibet through the streets of New York, including Times Square, the UN building and the Chinese Consulate
Organized by eight leading Tibet organizations based in New York:
The Tibetan Community of New York & New Jersey
Regional Tibetan Youth Congress of New York & New Jersey
Regional Tibetan Women Association of New York & New Jersey
Dokham Chushi Gangdruk
​Utsang Association of New York & New Jersey
Domey Association of New York & New Jersey
US Tibet Committee
Students for a Free Tibet
"Amid heavy security on the ground, Tibet is almost entirely closed to foreign journalists and diplomats and information about actual conditions there is difficult to obtain."

Contact: Dorjee Tseten, Executive Director, Students for a Free Tibet
6467533889, dorjee@studentsforafreetibet.org
Source: Students for a Free Tibet
Related Media
Tags
Additional Links