New York City Endodontist to Offer Free Soft-Tissue Oral Cancer Screenings
Press Release
-
updated: Nov 15, 2017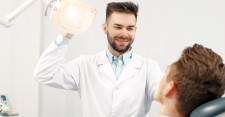 NEW YORK, November 15, 2017 (Newswire.com) - Dr. Nima Dayani, an established leader in endodontic care and specialist in root canal procedures, will offer free soft-tissue oral cancer screenings Nov. 20.
The screenings, which were scheduled in response to the American Cancer Society's Great American Smokeout, will take place at Dayani's Midtown Manhattan practice, Advanced Endodontics of NYC PC.
Oral cancer is a growing concern in the United States. While oral cancer can occur in anyone with or without a risk factor, smoking and heavy alcohol consumption are two main risk factors for oral cancer. According to a January 2017 article published by Sigel et al. in CA: A Cancer Journal for Clinicians, there will be an estimated 32,850 new cases of oral cancer and 7,550 deaths as a result of the disease in 2017. Of those new cases, the average five-year survival rate is 67.5 percent.
"Access to the oral cavity is so easily available and it is recommended to see a dentist twice a year," Dayani said. "Meticulous inspection of all the soft and hard tissues of the oral cavity by an endodontist or a dentist can reduce the morbidity and mortality rate of oral cancer significantly. That's one of the reasons why I'm hosting this event – to remind people that they have a great resource in their dental care providers.
"The other reason," he added, "is to remind people that oral cancer is not something to take lightly."
Like other cancers, oral cancer can be just as devastating if not detected or treated early, which is why Dayani believes endodontists and dental professionals should be at the front line of defense. In addition to oral, head and neck examinations, dental professionals should also conduct a thorough review of a patient's medical and family history for risk factors.
According to the Oral Cancer Foundation, people should be screened for oral cancer annually starting at the age of 18. Oral cancer can be caught early, even as a pre-cancer, and in highly curable stages. Early detection can also lead to higher survival rates and low side effects from treatment.
Schedule a free soft-tissue oral cancer screening or learn more about Dr. Nima Dayani.
Source: Advanced Endodontics of New York City of NYC, PC
Share:
---
Categories: Non Profit, Healthcare, Medical
Tags: health screening, oral cancer, smoking cessation
---