New York City Challenged by Bed Bugs, Delta Five Offers Green Solution
Delta Five is exhibiting in New York City at the HX: The Hotel Experience on Nov. 12-13 at the Jacob K. Javits Convention Center.
Press Release
-
updated: Nov 8, 2017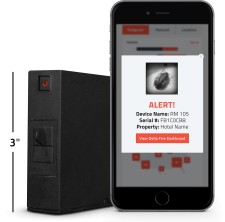 NEW YORK, NEW YORK, November 8, 2017 (Newswire.com) - According to New York City travel and tourism statistics, more than 60 million people visit the city each year. More than 8.5 million call New York City home. It's really no wonder why New York City often comes in as one of the top cities struggling with bed bugs.
In 2016, AM New York released a story that cited that while bed bug reports to the city's Housing Preservation and Development office have dropped, bed bugs are still flourishing in the city becoming more resistant to treatments. Experts agree that formal city reports have dropped because people are calling exterminators for help directly rather than waiting for city officials.
Recently, reports are resurfacing of bed bug bites from inside the AMC Empire 25 theater in New York City's Times Square. The theater had suffered from a bed bug problem in the summer of 2010 and the fall of 2015. While most people don't think of a theater or other business as a setting for a bed bug issue, it's more common than people realize.
"Bed bugs aren't just confined to hotels and bedrooms. As people who have encountered bed bugs move around, the bugs can be carried with them," says Dr. Jason Janet, CEO of Delta Five. "While it is more common to encounter bed bugs in a hotel or residence, they can also be found in other less thought of areas like theaters, methods of transportation, and more. Finding a preventative solution is key, rather than just treating the problem after the fact."
It's not just New York City. Cities across the country are seeing an increase in bed bug infestations, and the pesticides known to treat them aren't always working effectively. Bed bugs were initially wiped out by DDT in the 1940s and 50s. But after a few decades of being dormant, bed bug infestations have had a resurgence. DDT was banned by the EPA in 1972, but even so, bed bugs had started forming a resistance to it as they are today with other insecticides.
Instead of another ineffective insecticide solution, Delta Five has innovated. The company offers an effective green solution to combat bed bugs. The company is the inventor of the Automated Insect Monitoring System, which has a proven 98 percent success rate at detecting bed bugs and other insects while preventing pest encounters. The Automated Insect Monitoring System is the first and only 24/7, safe, Wi-Fi-enabled bed bug solution provides unprecedented early detection of pests including bed bugs and other insects. Most important, the system is organic and chemical-free, protecting the health of people and the environment. The devices are already in locations across the United States and around the globe.
Delta Five's solution is not just for hotels and other residences. It's discreet and compact enough to be used in any setting for early detection and prevention. The Automated Insect Monitoring System, attaches easily to out-of-sight surfaces and provides remote 24/7 monitoring with real-time notification. It utilizes an all-natural, odorless lure to attract bed bugs and other insects, which are noticed by the device's internal cameras that, in turn, activate the traps. The WiFi enabled system immediately notifies users via email or SMS. Users can simultaneously track thousands of sites, view images of captured pests and see alerts on the Delta Five dashboard. Because the system traps the insects, disposal is also easy.  
"For hotels that are already using the Automated Insect Monitoring System, the device has caught bed bugs and other insects faster than visitors have detected them," explains Melanie Brinkley Ferlito, Executive Director of Delta Five. "Utilizing this device has also saved facilities on costly, unnecessary, and often ineffective chemical treatments."  
Dr. Janet and Ferlito will be exhibiting this week, Nov. 12-13, at the at HX: The Hotel Experience at the Jacob K. Javits Convention Center. HX is North America's leading trade show for the hospitality industry. To learn more about Delta Five's Automated Insect Monitoring System, visit DeltaFive.com.
About Delta Five
Delta Five is innovating hospitality as well as property-and pest-management with automated technologies that enhance guest and resident satisfaction, while boosting business profits and reputation. For more information, visit DeltaFive.com.​
Source: Delta Five
Share:
---
Categories: Travel, Transportation, and Hospitality News, Accommodations and Lodging
Tags: Bed Bugs, New York, Pest control
---