New XConnect Gun System Offers Cost-Effective Solution to Boost Efficiency
The new XConnect gun system is geared to revolutionize the game. Offering improved efficiency at an economic stage cost, the system introduces several highly beneficial features that set it above its popular counterparts.
Press Release
-
updated: Dec 6, 2019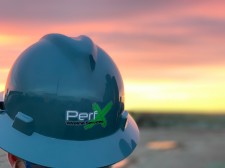 DENVER, December 6, 2019 (Newswire.com) - Offering a host of highly effective and performance-enhancing features, PerfX Wireline Services is now proud to announce their innovative new gun system. The company has dedicated extensive resources into research and development of this next generation perforating system. The project has finally culminated and XConnect is now available on the market, posing strong competition to its expensive and less efficient counterparts. Designed around the standard 3 1/8" gun components, XConnect offers extreme versatility while limiting costs considerably and simultaneously reducing the workload of crews in the field. 
With most popular "plug-and-play" gun systems being limited on charge substitutions, the XConnect system is compatible with various perforating charge vendors such as Titan, Owens, GEODynamics, Dyna-Energetics and many more. Be it varying gun lengths, shot densities, perforating charges or phasing, XConnect's compatibility makes it ideal for emergency situations and gives it a competitive edge. 
Charlie Thomas, president of PerfX Wireline Services made an official press statement to further discuss the new gun system: "Here at PerfX Wireline Services, we have a team of highly qualified professionals at the helm of our company. Our goal was to create a cutting-edge gun system that offers extreme versatility and efficiency at a reduced cost compared to commonplace gun systems. XConnect has far exceeded our expectations, and we are proud to be introducing it into the market. Designed with cost awareness and compatibility in mind, various aspects of the XConnect system make it highly reliable, safe, affordable and result-oriented." 
Mr. Thomas further added, "The XConnect gun system utilizes a port-less sub, adding only 0.25" in length between barrels, while also reducing spring-loaded contacts and eliminating unnecessary fail points. Furthermore, most systems still require the use of pipe or spanner wrenches for making connections, but XConnect can be fully assembled with specialized tooling designed to prevent hand and other related injuries.
More details about XConnect can be seen on the official company website at www.perfxwireline.com.
Source: PerfX Wireline Sevice
Share:
---
Categories: Energy
Tags: Perforating and pump down, PerfX Wireline, XConnect Gun System
---