New Wine Documentary Challenges Assumptions
Award-Winning Wine Documentary Streaming Worldwide
Press Release
-
updated: Oct 10, 2018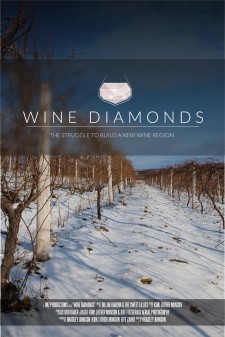 SEATTLE, October 10, 2018 (Newswire.com) - Forget wine dogma! JMZ Production's new documentary film "Wine Diamonds: Uncorking America's Heartland" explores the difficulties and excitement of creating a new wine region in the Heartland and rewrites wine making history in the process. 
"Most people, including wine experts, don't know this," said Brad Johnson, one of the film's producers, "but less than 100 years ago Iowa was the sixth leading producer of grapes in the United States. The 1900 U.S. agricultural census shows Iowa produced 7,403,900 pounds of grapes and 76,301 gallons of farm-processed wine. Three historical events significantly altered the fate of this wine growing region: Prohibition, the advent of potent and highly volatilized herbicides, and the improvement of cheaper and more efficient row-crop farming (e.g., corn and soy beans) and our film shares this story of struggle and rise of a new wine region."
"Wine Diamonds: Uncorking America's Heartland" documentary movie (65 minutes) begins by tracing the historical significance of one of the early grape breeding pioneers of the Midwest and then explores the challenges of grape production, wine making and consumer acceptance in the upper Midwest. Five wine making families share their personal stories of struggle and success as they attempt to create a new wine region. World renowned wine authorities, Doug Frost (Master Sommelier and Master of Wine) and Tim Hanni (Master of Wine) answer the big questions about cold-hardy grapes and wine. The film ends on a high note as key figures in the wine industry imagine the future of this new nontraditional wine region.
For the past year, "Wine Diamonds" has gained attention across the United States, earning acclaim in several film festivals, including being chosen as a Gold Award Winner (Spotlight Documentary Film Festival), Semi-Finalist (Atlanta DocuFest), and earning five Official Selections in other film festivals.
The film is available and now is streaming worldwide on Amazon Prime (free for subscribers), on VIMEO (digital downloads to rent/buy), and as Digital Video Disk (DVD).
Watch/Rent/Buy: www.winediamondsfilm.com
Media Contact: Brad Johnson, Director (Seattle, WA)
Phone: 319-329-1509
Email: winediamondsfilm@gmail.com
Source: JMZ Productions
---
Tags: documentary, documentary film, midwest, wine, wine industry, wine movie, wine region
---