New Version of Sun West's Morgan Chat AI Launches in the Biggest Game of the Year - The Morgan Bowl
Press Release
•
updated: Feb 12, 2023
The Morgan Bowl Event in Puerto Rico, Spots in the Big Game, Appearance on Fox Business News are part of an unprecedented launch for Sun West's AI Chat Technology - Morgan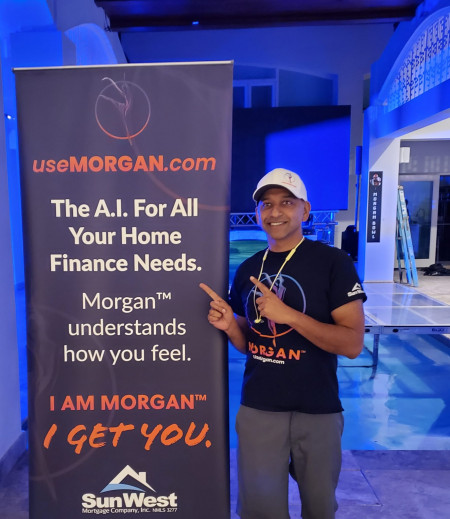 NEW YORK, February 12, 2023 (Newswire.com) - Pavan Agarwal, CEO of Sun West Mortgage, walks through his beautiful home which has been transformed into a party venue like no other, to celebrate Morgan's launch and watch the biggest game of the year. 400 friends, business partners and loyal staff from California, India, Australia and Puerto Rico will come together in Dorado and The Morgan Bowl, as it has been named is a fitting way to recognize many years of hard work and investment.
Pavan Agarwal explained "Morgan is a people-powered technology and AI platform, built to specifically address the unique challenges of our business. While ChatGPT and AI are the latest buzz words, our technology is already proven and operating throughout our business."
As Morgan roles out on the national stage, Pavan and Morgan have appeared on Fox Business News with Maria Bartiromo (https://video.foxbusiness.com/v/6319648609112#sp=show-clips), The New England Mortgage Expo and over a dozen other events. Morgan will also be seen by millions of people with television spots in key markets in America's Biggest Game of the Year.
But Pavan isn't using The Morgan Bowl as the "season end" - with expanded technology and even greater use of AI, Morgan is just getting started. Morgan's speed and accuracy are thanks in part to what Agarwal calls empathetic technology. The platform deciphers how a user feels based on keystrokes, tone of voice, fluctuations in speed and stress of word pronunciation, all while effortlessly conversing in dozens of languages. The broader use cases and opportunities are game changing.
Morgan's latest television commercials can be seen at:
https://www.youtube.com/watch?v=ThRr3Qco8ss
https://www.youtube.com/watch?v=7fhy19maJp0
Visit swmc.com for terms and conditions (https://www.swmc.com/terms-and-conditions). For licensing information visit www.nmlsconsumeraccess.org. Visit http://www.swmc.com/swmc/disclaimer.php for the full list of license information. Please refer to https://www.swmc.com/TXdis.php to view Texas Complaint Notice and Servicing Disclosure. In all jurisdictions, the principal (main) licensed location of Sun West Mortgage Company, Inc. is 6131 Orangethorpe Avenue, Suite 500, Buena Park, CA 90620, Phone: (800) 453-7884.
Source: Sun West Mortgage
Related Media