New VersaTiles® by ETA Hand2mind Helps Students Build Confidence With Hands-on Practice
Press Release
•
Mar 23, 2016
Self-checking system features new and improved answer case and updated content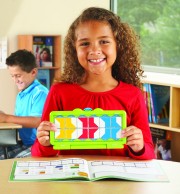 Vernon Hills, IL, March 23, 2016 (Newswire.com) - ETA hand2mind, the leader in hands-on education materials for more than 50 years, has launched the new and improved VersaTiles, a skills-practice system that provides immediate feedback and is an active alternative to practice workbooks.
The standards-aligned self-checking system helps students develop fluency of key concepts and skills while also building confidence and self-esteem. VersaTiles requires no prep time or grading and is a flexible, non-consumable resource that's perfect for intervention, classroom centers, after school programs, summer school, at-home family time, and more.
"We are thrilled about the re-launch of our most popular learning solution, VersaTiles. This is our third and most exciting update since the product's inception, and we are proud of the fact that we have enhanced millions of students' lives by making skill practice fun with VersaTiles. The early response from educators about the new edition has been overwhelming, and we look forward to delighting students, teachers, and parents for years to come," said Bill Chiasson, President, ETA hand2mind.

Lorena Jaimes, Senior Marketing Manager
Starting with the answer case, the improved design and functionality makes VersaTiles accessible and fun. As an alternative to digital materials and workbooks, the 100% updated VersaTiles content engages students with real-world photos, embedded examples and tips to support independent and small-group learning, and allows teachers to spend more time meeting student needs.
For more information about VersaTiles, visit www.hand2mind.com/versatiles.
###
About ETA hand2mind| www.hand2mind.com
The mission of ETA hand2mind is to support K–12 educators and partners in its quest to inspire learning and champion learning-by-doing with research-based, proven hands-on solutions. The Vernon Hills, Illinois-based company's solutions in mathematics, science and literacy are unique in the marketplace, providing instructional curriculum, custom-kit solutions for content providers, manipulatives, interactive digital applications for education, and teacher coaching and development.
Additional Links