New Technology Enables Wireless Chargers to Become Faster, More Efficient
Press Release
-
updated: Feb 20, 2018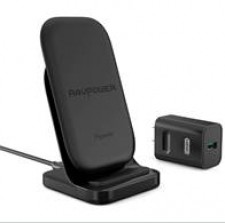 FREMONT, Calif., February 20, 2018 (Newswire.com) - Wireless phone charging has become an absolute necessity for people on the go. So it's no surprise that there are many charging devices available on the market.
What is surprising is how inefficient most of them are. In an effort to cut production costs, many manufacturers are offering wireless chargers that frequently overheat, not only affecting the charging speed but also the battery health. The energy which turns into unwanted heat is essentially wasted.
Sunvalleytek International Inc., a California-based high-tech manufacturer, has come up with a solution. Using its patented HyperAir technology, Sunvalleytek has launched a line of wireless chargers (RAVPower) that features triple temperature controls to avoid overheating.
RAV stands for Reliable, Affordable, Value.
An intelligent chip monitors and adjusts the charging temperature, while the advanced internal structure disperses heat 15 percent faster and more effectively than traditional wireless charges.
RAVPower chargers also feature fail-safe circuitry that prevents overcharging, over-current, over-voltage, overheating and short circuits. This results in charging times that are half of the traditional 3.5-5W wireless chargers.
For example, an iPhone X, 8 or 8 Plus can fully charge in well under three hours. A Samsung Galaxy S8 can charge in four hours or less.
The economic RAVPower-PC066 hit the market in late January. RAVPower-PC069 and RAVPower-PC080, which offer additional features, were launched in mid-February.
RAVPower-PC069 features
The RAVPower-PC069 includes a 7.5W fast wireless charger for iPhone X, 8 and 8 Plus, and a 10W Qi wireless charging pad for Galaxy S8, S7, Note 8 and all Qi-enabled devices. A QC 3.0 adapter is included.
The RAVPower-PC069 offers Instantaneous Device Detection. By sharing the same fixed frequency program as iPhones, the HyperAir technology accurately detects an iPhone (or other Smartphone) and starts charging immediately.
In addition, this model features dual-coil charging. The Qi wireless charger for iPhone X allows you to charge and use your Smartphone in landscape or portrait modes.
An LED display light shows the charging status and anti-slip silicone keeps the Qi wireless charging pad and phone in place. Cutouts in the exterior shell help disperse heat, all but eliminating the chances of an overcharge, overvoltage or short circuit.
The result is a faster, safer charging system that uses less electricity.
For more information
For additional details about any of the new RAVPower charging systems, visit www.ravpower.com/hyperair.html. You can also contact the company at 888-456-8468, (Monday through Friday, 9 a.m.-5 p.m. PST) or e-mail support@ravpower.com.
Source: Sunvalleytek International Inc.
Share:
---
Categories: Electrical, Electronics, Mobile and Smart Phones
Tags: PC069, RAVPower, Sunvalleytek, Wireless Chargers
---