New Tech Network Awards Elementary Teachers for Project on Student Agency
Press Release
•
updated: Aug 1, 2017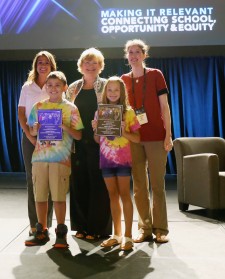 ST. LOUIS, Mo., August 1, 2017 (Newswire.com) - New Tech Network (NTN) announced at the New Tech Network Annual Conference (NTAC) in St. Louis, Missouri, that Lindsey Risner, Lorien Goodwin and Courtney Young, 3rd grade teachers at Washington Discovery Academy in Plymouth, Indiana, were awarded Best In Network for their project submission "DARE TO DREAM IN COLOR."
Risner, Goodwin, and Young received the award for their project designed to develop a sense of student agency (managing one's own learning), and perseverance while focusing on students' strengths and viewing challenges with excitement and failure as an opportunity to learn. More than 1,500 educators representing elementary, middle and high schools nationwide were present for a presentation from elementary students Arielle Ferman and Leandro Moran.
Great projects that inspire and engage students are the direct results of great teachers. Dare to Dream in Color is a powerful example of the deeper learning that can take place in every public school.

Lydia Dobyns, President and CEO
"People often associate project-based learning and the New Tech Network with improving student engagement," said Lydia Dobyns, NTN President, and CEO. "However, the NTN model is more than an engagement and student motivation strategy. Properly understood, it is a powerful platform from which to help prepare students both academically and with the skills and attributes essential to thrive and succeed beyond the classroom."
New Tech Network recognizes the Best in Network teacher(s) who exemplify successfully combining active exploration, application, authenticity and academic rigor. A committee of peers reviews teacher submissions and selects the award winner(s), based on the student project that best demonstrates exemplary learning opportunities. This year, the project submission pool was particularly impressive with excellent projects submitted in varied subject areas and at all grade levels, reflecting NTN's K-12 network of schools.
According to one of the peer reviewers, "I could not stop thinking about the learning experience these 3rd graders have during this project. The idea that they wrote persuasive writing at this age is beyond amazing! The students have so many learning experiences from graphing for math, designing for video and print, training for physical fitness, science for the color powder... and the list goes on."
Risner, Goodwin and Young explained that the driving question for their project was, "How can we convince people to do something even if it is challenging?" Student projects included:
Fund-raising Color Run inspired 5K
5 Paragraph Persuasive Essays
T-shirts with handmade Designs
Commercial for the 5K Run
Map of the Path
According to the Risner, "This was a powerful project. It had a huge impact on student mindset. Students encouraged one another and were not afraid to fail. Instead, they were consistently uplifting. 'Dare to Dream' had a tremendous effect on culture."
"Dare to Dream" also fostered great community connections with guest speakers since the teachers partnered with their local park and raised money for another local park to help build swings.
New Tech Network's approach creates and sustains changes by helping shape the conditions that surround teaching and learning.
The New Tech school model is based on four design pillars:
Culture that Empowers: School-wide culture of empowerment for students and adults
Teaching that Engages: Project and problem-based approach to instruction
Technology that Enables: Use of technology for collaboration, access to information, and self-directed learning
Outcomes that Matter: Student outcomes for college, career, and civic life readiness
"Great projects that inspire and engage students are the direct results of great teachers. Dare to Dream in Color is a powerful example of the deeper learning that can take place in every public school," said President and CEO Dobyns.
ABOUT NEW TECH NETWORK
New Tech Network, a national non-profit organization, is a leading design partner for comprehensive school change. We work closely with districts and schools to create innovative learning environments. Through a proven school model, a project-based learning platform, and powerful professional development, we coach schools toward lasting change and ongoing improvement.
There are nearly 200 schools in 28 states and Australia in the New Tech Network. Visit a school today!
http://www.newtechnetwork.org/engage/tours
Source: New Tech Network
Related Media
Additional Links