New Survey Data Shows Innovation Teams at Large Companies Are Focusing More on Near-Term Initiatives, but Internal Politics and Culture Remain Top Challenges
Press Release
•
Feb 7, 2023
InnoLead has released a 2023 update to its popular Benchmarking Innovation Impact research with KPMG LLP.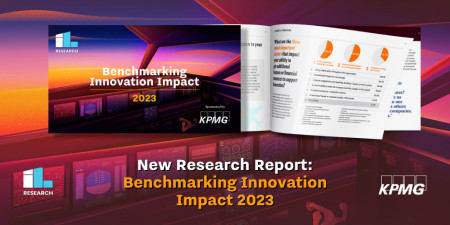 BOSTON, February 7, 2023 (Newswire.com) - Global 1000 companies are pulling back on longer-term innovation projects and allocating more resources toward the near term, according to the new research report Benchmarking Innovation Impact 2023, produced by InnoLead and sponsored by KPMG LLP. Innovation group budgets are under more pressure, compared with an earlier survey conducted in 2019, but more than 40 percent of corporate respondents expect the size of their innovation teams to increase in 2023.
InnoLead surveyed more than 200 professionals globally who work in innovation, R&D, and strategy roles to understand how organizations are navigating decisions related to innovation investment.
Key findings from the report include:
More than 40 percent of organizations expect innovation group staffing to increase in 2023, while 43 percent expect group size to remain the same. Fourteen percent are anticipating a decrease.
26 percent of respondents expect their budgets to decrease in 2023, compared with only nine percent expecting a decrease in the earlier 2019 survey. Thirty-nine percent of respondents expect their budget will increase in 2023.
The vast majority of innovation groups (81 percent) say they're working together in a hybrid model, with just 6 percent working together entirely in person and the remainder (13 percent) working entirely remotely.
The top challenge for corporate innovators remains the same as in the 2019 survey: navigating internal politics and turf wars in order to get new initiatives launched.
When asked about the factors that help attract additional budget or staff to innovation activities, respondents put two things atop the list: Senior leadership is excited by the innovation group's vision, and the group has demonstrated the ability to generate new revenues.
"Innovation empowers organizations to deliver new capabilities, tackle unexpected challenges, and meet client demands," says Cliff Justice, National Leader of Enterprise Innovation at KPMG US. "Our report provides valuable insights for leaders in strategy, R&D, design, and more, so they can create quantifiable impact across their organizations."
In addition to quantitative data about how innovation in large organizations is evolving, the 55-page research report includes perspective pieces from KPMG professionals and qualitative interviews with executives from Colgate-Palmolive, Entergy, Goodyear, Illumina, Kimberly-Clark, Mastercard, PTC, and NASCAR.
To access the report, please visit innovationleader.com/research-reports/benchmarking-innovation-impact-2023/
To learn more about KPMG LLP, please visit https://kpmg.com/xx/en/home.html.
Source: InnoLead