New Supplement Designed for First Responders
Press Release
•
updated: Jan 14, 2019
'Heroes Pack' for first responders and others that have stressful, active lives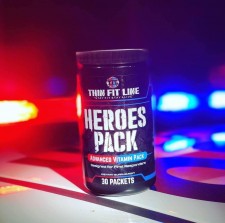 WENATCHEE, Wash., January 14, 2019 (Newswire.com) - Thin Fit Line has officially launched a new vitamin pack and they're aiming to redefine the dietary supplements industry by offering a product specifically designed for first responders.
Founder Dan McBride credits his father as a motivating force behind the vision and creation of Thin Fit Line; his dad worked as a firefighter, eventually becoming captain and then fire commissioner. McBride, himself a volunteer firefighter, went on to a career in law enforcement as a corrections officer.
We look at our company as something that surpasses a vitamins and supplement brand. It's a community, a support group and a family.

Dan McBride, Founder/Owner
"Knowing the stresses of the job made me recognize how important fitness and nutrition is for these career fields, not only physically but mentally," said McBride, noting PTSD, depression, cancer and suicide are higher in first responders.
A 2018 report reinforces this grim reality. The data shows that in 2017, 243 firefighters and police took their own lives, compared to 222 who were killed in the line of duty.
"I remember what it was like sleeping at the fire station, waking up all hours responding to calls and then going to a full-time job the next day. I was practically running on fumes. And I remember the long mandatory 16-hour shifts around hundreds of inmates, always wondering if or when they would strike. I remember watching brothers and sisters fall ill because they weren't taking proper care of themselves during those long stressful hours."
This is why HEROES PACK comes in convenient travel-size packets which contain:
42 Fruits & Vegetables

Over 50 Herbs

Every Essential Vitamin
More specifically, HEROES PACK includes:
Quercetin, pine bark extract, cordyceps extract, spirulina, citrus bioflavonoids, gotu kola, green tea, alpha lipoic acid, panax ginseng

Feverfew, butterbur Stinging nettle, safflower, ashwagandha, L-tyrosine, rhodiola rosea

Stinging nettle, cordyceps extract, bromelain, spirulina

Pine bark extract, citrus bioflavonoids, green tea, L-citrulline, L-arginine, panax ginseng

Pine bark extract, ginkgo biloba, phosphatidylserine, bacopa monnieri, vinpocetine, huperzine-A, choline, inositol, gotu kola, green tea, L-tyrosine, eleutherococcus senticosus, panax ginseng, rhodiola rosea, holy basil

Phosphatidylserine, spirulina, choline, MSM, ashwagandha, eleutherococcus senticosus, rhodiola rosea

Echinacea purpurea, lactobacillus acidophilus, eleutherococcus senticosus, holy basil
While HEROES PACK can be used by anyone who has an active life or a stressful career, Thin Fit Line offers a lifetime discount for any verified first responder. Additionally, they have teamed up with National Fallen Firefighter Foundation and Concerns of Police Survivors (COPS).
"Organizations are out there fighting hard for better equipment and programs but have little money for funding. Which is why Thin Fit Line not only provides the best products for your health but we also donate a portion of each sale to these organizations."
About Thin Fit Line
Thin Fit Line aims to redefine the dietary supplements industry by creating products that go beyond the marketing hype and really help those who need them the most. That's why their goal is not only to create game-changing products that do justice to their promise, but also to support those who put their lives on the line for their communities by pointing them in the right direction and offering them a helping hand in the process.
"We look at our company as something that surpasses a vitamins and supplement brand. It's a community, a support group and a family."
For more information, contact:
Thin Fit Line
www.thinfitline.com
info@thinfitline.com
Source: Thin Fit Line
Related Media
Tags
Additional Links